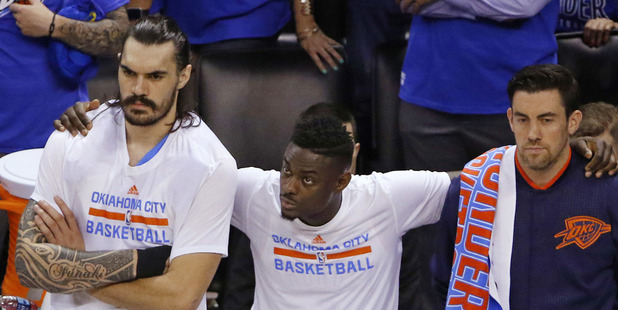 Who were the winners and who were the losers from the sporting weekend? Wynne Gray and Chris Rattue make their picks.
Winners:
Golden State Warriors:
Unfortunately. Steven Adams and the Oklahoma City Thunder have performed well beyond expectations in the NBA's western conference finals, but momentum is back with the Warriors for tomorrow's decider. - CR
Southern Steel: Down south the Steel are the only unbeaten side in the trans-Tasman league and under new coach Noeline Taurua keep reminding the Ockers about their decision to go it alone in a new competition. - WG
Zinedine Zidane:
The French football legend guided Real Madrid to the Champions League title. 'Zizou' has turned Real Madrid around since taking over mid-season - a great coach who might be a great manager.
- CR
Crusaders:
When the Super Rugby dust cleared, the Crusaders had won (somehow) and the chasing Highlanders and Chiefs had faltered. When the final three games resume after the June test interlude, the Crusaders will have a precious advantage in the real rugby race to the top of the NZ conference. - WG
Mahe Drysdale:
Drysdale stepped on the gas to win the single scull final at Lucerne and send a message to Rio he is getting into top shape to repeat his gold medals from the London Olympics. - WG
Big props:
New All Black Ofa Tu'ungafasi may not be the heaviest international prop ever at around 130kg. But the 1.95m Auckland giant probably matches England's Andrew Sheridan as the tallest test front rower although we stand to be corrected. - CR
Losers:
Blues:
In reality they were goners anyway, but the Crusaders put the Super Rugby mathematicians out of their misery. - CR
Kane Williamson's acting future
Williamson and his mates from the Hyderabad Sunrisers feature in an ad for a Indian courier company which must be an automatic finalist in the Golden Gob awards for worst ad of the year. What a stitch up. - WG
New Zealand sevens:
The women suffered another defeat in Olympic year to the rampant Australians, and finished without a single World Series tournament victory this season. And we can't blame the All Blacks for that. - CR
Daniel Ricciardo:
Mid-race leader Ricciardo was left fuming in the pits at the Monaco Grand Prix as his Red Bull pit crew messed up a tyre change which cost the Aussie his second consecutive triumph. - WG
Michael Hendry
Hendry was hanging in until he shed four bogeys in his last seven holes of the Japan Open and fell into a tie for 5th, two shots behind the winner. - WG
The Warriors:
Without playing a game in Origin week. The Auckland NRL club had a bye but had to watch fellow playoff hopefuls Canberra, Wests and St George upset heavyweights Canterbury, Brisbane and North Queensland. A bye bye weekend for the Warriors maybe. - CR