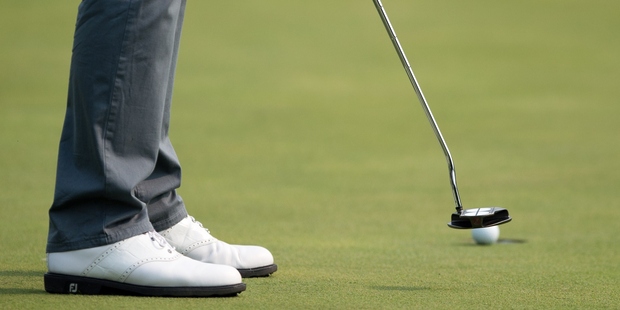 The New Zealand Open field is now complete after the final eight players qualified this afternoon.

In the first of two qualifiers across the country today, Royal Auckland Golf Club played host in the North Island as Woonchul Na and Steven Han both recorded impressive rounds of 68 to receive their boarding pass to the national open in Queenstown starting this Thursday.

Players found it hard to find consistency in the wind, which meant the three under par rounds of Na and Han were solid enough to hold off the 58-strong field.

Joining them in the departure lounge will be Sam Daly (69), Joonsang Chung (70), Teina Hotene (70) and Mason Lee (71).

It wasn't without drama as Auckland's Mason Lee scraped through in a four-man playoff holding off Henry Spring, Brad Hayward and Nathan Buzimkic in a marathon six holes of sudden death.

It was deja vu as they kept repeating the 18th hole with Hayward the first to drop out after having bunker troubles three holes in. Lee then made birdie after a beautiful nine iron saw him pin seeking and was rewarded with the final qualifying spot.

This left Spring and Buzimkic to fight it out for the first reserve position. Now playing the 18th hole for the seventh time today, Bay of Plenty's Spring finally defeated Buzimkic to claim first reserve. Spring will be hoping tradition continues as the next on the list usually sneaks into the field.

The second qualifier of the day was hosted by Cromwell Golf Club in Central Otago where new professional James Beale and amateur Nick Borren came out of the gates firing to also secure a birth in Queenstown.

Both were four under par at the turn finishing with solid rounds of five under (67).
With only two spots available from the field of 24, aggression was rewarded as they finished two shots clear of the field.

Beale has recently made the transition to the professional ranks after being a part of the New Zealand High Performance programme and spending four years at University in America, and will be excited about his second professional tournament being the national open.

Otago's Nick Borren showed talent at the Toro Interprovincial's late last year and proved it once again today. There is no doubt he will get a lot of local support travelling from across Highlanders Country to support his first New Zealand Open.

The final two players that leave with an alternate reserve spot were Dong Min Lee and Oscar Cadenhead which leaves the following five with a nervous wait: