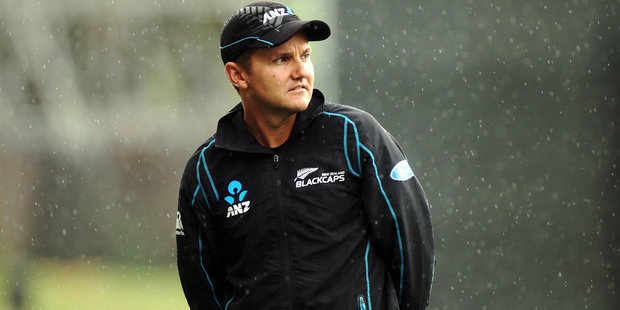 Black Caps coach Mike Hesson has extended his contract with New Zealand Cricket for a further two seasons, earning a huge backing ahead of next year's Cricket World Cup.
The 39-year-old's original contract was set to end following that tournament, which New Zealand will co-host with Australia, but the national coach will now remain in the role until at least April 2017.
Hesson has made an increasingly good impression since assuming the reins in 2012, leading the Black Caps to series wins over India and the West Indies at home last summer before adding a rare test series victory in the West Indies.
With such achievements in mind, NZC chief executive David White said he was delighted that Hesson had chosen to stay on as coach and selector post-World Cup.
"It's great news for the players and for the sport to have consistency in this role for our flagship team for nearly five years," White said. "Mike has worked incredibly hard to build our relatively young test team into one that is now challenging the top sides in the world."
White added that Hesson had formed a formidable partnership with captain Brendon McCullum, with the pair now awaiting an opportunity at the helm of the national side at the World Cup, beginning in February.
"How the team performed at home over the summer against both the West Indies and India showed that both Mike and Brendon have built a side capable of knocking over anyone on their day," White said.
Hesson, who coached Otago for six years and also had a stint with the Kenyan national side, said he was keen to continue developing the young players who are coming through to the top level.
"It's a really exciting time for the sport with the World Cup at home, our senior players performing well and a promising group of youngsters who are all fighting for world cup spots," he said.
- APNZ