A close look a the All Blacks' 17-test unbeaten run as they need one more win on Saturday to claim the tier-one record.
The last defeat:
England 38 All Blacks 21
1 December, 2012
The unbeaten record has gone. The season has ended in stunningly bad fashion with England bursting into astonishing life at Twickenham to not only beat the All Blacks - but to beat them well and to beat them playing inspired rugby.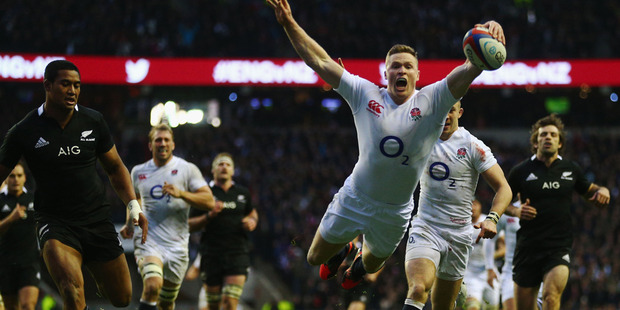 Chris Ashton of England goes over to score against the All Blacks. Photo / Getty Images.
More on All Blacks v Wallabies
Conrad Smith leaves team for birth of child
Wynne Gray: All Blacks can derail backline star
McCaw wins more often than Wallabies
Catch our live blog of the Bledisloe Cup test from 9.15pm tomorrow.
The streak:
1
-
23-13 v France, Auckland, 8 June, 2013
A spluttering All Black side continued their lengthy winning record at Eden Park but only just against a tenacious visiting French team.
2 -Awesome All Blacks thump France
30-0 v France, Christchurch, 15 June, 2013
Kick and chase hasn't previously been the All Blacks' cup of tea, but last night they gave it a go and found they were rather good at it.
3 - All Blacks sweep France
24-9 v France, New Plymouth, 22 June, 2013
This winning ugly business is getting to be a habit for the All Blacks. No one should really mind that, but it's hard not feel just a touch deflated with the way the All Blacks played tonight. They wanted to build on what they delivered in Christchurch. They absolutely didn't.
4 - All Blacks run rampant
47-29 v Australia, Sydney, 17 August, 2013
In a gesture of trans-Tasman kindness, no one should ask this morning how bad the Wallabies are and instead focus on just how good the All Blacks are. Last night provided plenty of evidence to suggest the All Blacks certainly are good. Really good.
5 - All Blacks retain Bledisloe Cup
27-16 v Australia, Wellington, 24 Augusut, 2013
The All Blacks retained the Bledisloe Cup in Wellington tonight with a 27-16 win over Australia and the New Zealand rugby public were given a glimpse in to the future.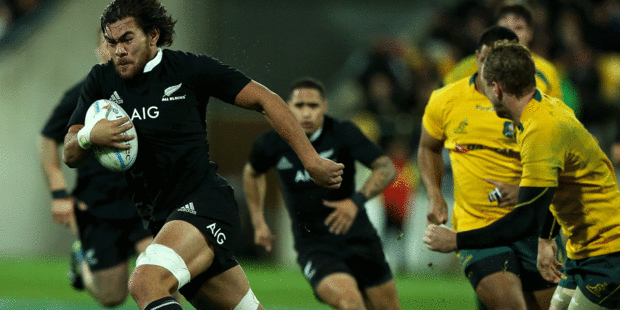 Steven Luatua on the break against the Wallabies. Photo / Getty Images
6 - All Blacks grind out win
28-13 v Argentina, Hamilton, 7 September
Even though the All Blacks were in action, it was hard not to think ahead to the America's Cup which was going to grasp the nation's early morning attention.
7 - ABs batter the Boks
29-15 v South Africa, Auckland, 14 September, 2013
The All Blacks lost star five eighths Daniel Carter to injury but extended their unbeaten sequence at Eden Park tonight as they held out a belligerent Springbok inquisition 29-15.
8 - All Blacks tame Pumas
33-15 v Argentina, La Palata, 29 September, 2013
A strong second-half performance from the All Blacks has subdued a spirited Argentina at La Plata, with Ben Smith's late try, his second of the match, allowing them to put one hand on the Rugby Championship trophy.
9 - Thrilling All Blacks claim title
38-27 v South Africa, Johannesburg, 6 October, 2013
The All Blacks have defended their Rugby Championship title with a victory over the Springboks at Ellis Park this morning in a pulsating test which featured several moments of controversy.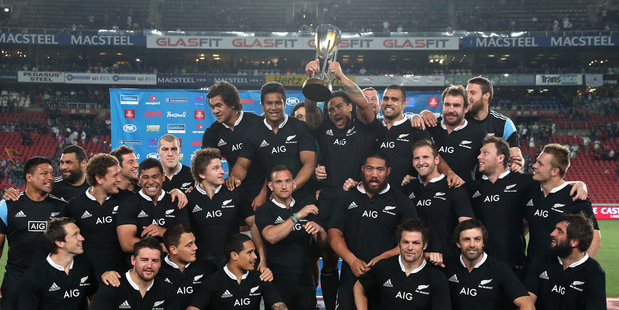 The All Blacks celebrate winning the Rugby Championship title. Photo / Getty Images.
10 - All Blacks rise another level
41-33 v Australia, Dunedin, 19 October, 2013
Anything the All Blacks can do, the All Blacks can do better. Brilliant against South Africa, they were somehow at a level above tonight. Absorbing, relentless, brutal, deft, subtle, flexible, direct, brave - they were all of that and more.
11 - Brave Blossoms outclassed
54-6 v Japan, Tokyo, 3 November, 2013
Cricket score duly run up, answers and questions to various extents thrown up about some emerging players and Dan Carter and Richie McCaw played back into form - job done.
12 - Piutau stars in ABs win
26-19 v France, Paris, 10 November, 2013
Raw courage, a bit of luck and some magic from Charlie Piutau saw the All Blacks cling on to victory this morning in Paris.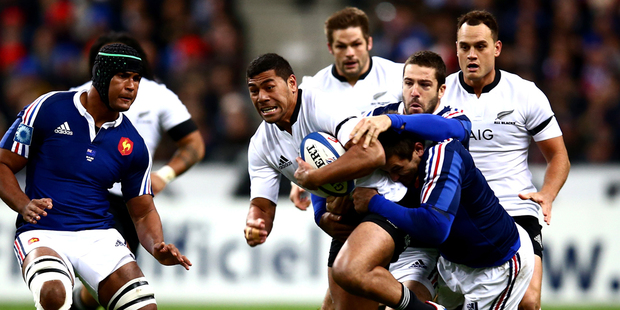 Charlie Piutau in action against France. Photo / Getty Images
13 - All Blacks maintain perfect record
30-22 v England, London, 17 November, 2013
Hard slog and a classy lineout got the All Blacks home this morning in London. Seriously hard slog as it happens as England were a tough nut to crack. These Poms are not bad.
14 - All Blacks complete perfect season (but only just)
24-22 v Ireland, Dublin, 25 November, 2013
No one does heartbreak like Ireland. Too cruel. Too cruel. This didn't really happen did it? New Zealand, 22-17 down with time up on the clock, won.
How did it happen? How could they have escaped? A penalty with time up on their 10-metre line and they ran. And they ran. And they kept the ball alive for 80 seconds and multiple phases until, it became a rub the eyes moment because Ryan Crotty was over in the corner.
15 - All Blacks leave it late
20-15 v England, Auckland, June 7, 2014
Even by first game of the season standards, this was an ugly, wart-ridden test that had a save-all redeeming feature in that the the All Blacks won it.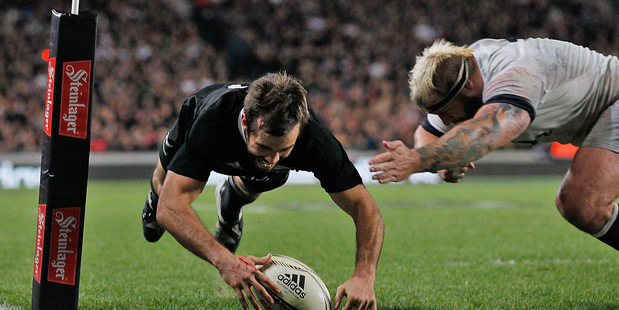 Conrad Smith scores the match-winner for the All Blacks. Photo / Getty Images
16 - Sweet All Blacks win
28-27 v England, Dunedin June 14, 2014
Victory isn't supposed to have different flavours, but there is no doubt that tonight's victory in Dunedin tasted so much sweeter than the one in Auckland.
17 - All Blacks sparkle in win
Not a bad piece of this machinery this All Black side when they are well oiled and able to work through the gears in the face of passive resistance.
36-13 v England, Hamilton, June 21, 2014

The numbers