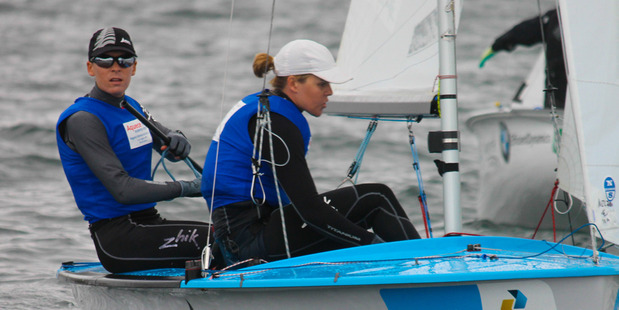 New Zealand has added gold and bronze on the final day of Olympic sailing test event to scoop a four medal haul in Rio, Brazil.
Today Jo Aleh and Polly Powrie finished fourth in the medal race and broke the three way tie in the Women's 470 to secure the gold ahead of the British who had to settle for silver.
Meanwhile Paul Snow-Hansen and Daniel Willcox came from sixth on the leaderboard to bag a podium finish on the final day with a medal race win.
With gold already awarded to Peter Burling and Blair Tuke in the 49er, and silver for Alexandra Maloney and Molly Meech in the 49erFX, today's results bring the medal tally to four for the New Zealand team.
The regatta, which acts as a trial run for the Olympic sailing regatta organisers, features the top sailors from around the globe in each of the ten Olympic classes.
Aleh and Powrie were delighted with the outcome of today's race, describing it as one of the most high pressure races they've sailed.
"It was a pretty tough race. Sail by the seat of your pants, see what happens and keep hoping it will work out. We knew we had to beat both of them [Mills/Clark and Haeger/Provancha] and be top five if the Austrians won,"
Aleh told ISAF.
"We always wanted to do well but just had to beat those boats. Pretty early on, as we started we were in the middle of them and kept an eye on them. The Americans dropped back pretty quickly so it was just between us and the Brits."
"Everyone found it stressful. There was a lot happening. When the boys raced before the wind was a little bit more set but the wind had just changed. It was one of the most unstable medal races we've done."
After a seven race series in the Men's 470 event the kiwi pair of Snow-Hansen and Willcox had taken a win in race four and some decent results against tough competition to lie sixth overall.
However they saved the best to last with a cracking medal race win in Rio today to propel them onto the podium for a bronze medal. Australian's Matt Belcher and Will Ryan took out the gold with Brits Luke Patience and Elliott Willis claiming the silver.
The Laser and Laser Radials also concluded the regatta today with New Zealand represented in the Laser medal race by Sam Meech, older brother of 49erFX crew Molly. Meech finished fifth in today's final race to wrap up the regatta in ninth overall.
The next major event on the Olympic sailing calendar is widely accepted as this year's pinnacle event - the ISAF Sailing World Championships in Santander, Spain from 8-21 September 2014.