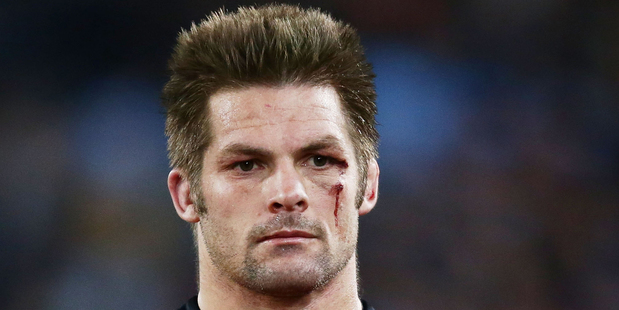 There will be global indifference felt towards the Waratahs' maiden title but massive satisfaction that Richie McCaw was cast as the villain in an epic final.
There wouldn't be many territories where McCaw's work at the breakdown has not caused tempers to flare - rags to be lost - and Craig Joubert's decision to penalise McCaw for illegal ruck entry will be viewed as certification that the legendary openside is indeed the cheat he's forever accused of being.
It may even spark a little flicker of hope in Australia, South Africa and England that the great man is no longer able, by reputation alone, to persuade referees that what they saw was supreme excellence rather than a man flouting the rules.
It makes for interesting debate, certainly, as the instruction to referees is to only worry about what is clear and obvious. There is no case to be made that McCaw's infringement with two minutes remaining in Sydney was either.
It was marginal, at best - unlikely to be one the Waratahs would have appealed against overly hard had it not been given.
"I guess when you roll the dice that is what can happen," said the All Black skipper. "It's pretty gutting really. Yeah [it was] 50-50, but in those moments, I probably should have known better really.
"I guess that's what pressure and those sort of moments come down to. You have to back your D and perhaps I opened the door for the ref to make a decision and whether you agree or disagree that's the way it was and unfortunately he kicked the goal. I'm pretty annoyed but I can't do much about it now."
McCaw, to be fair, has lived something of a charmed life: he's pulled off probably more than 500 turnovers in a 14-year professional career and so rarely fallen foul of officialdom. Ask the rest of the world and they will say it's ridiculous that McCaw's been able to have so much influence at the tackled ball area and not constantly be in the bin.
Get the French on to the subject and they will say it was almost criminal the way McCaw played in the 2011 World Cup final - a law unto himself they will say, and the French have plenty of experience identifying those.
Other opensides, good ones, haven't been able to be so persuasive. It's always been different with McCaw - he moves so quickly, so decisively, that referees have a split second to make a call and more often than not wave play on.
There is no chance of either McCaw or the Crusaders actually thinking this - but on one level that late penalty added credence to the legend of the No7.
If referees are prepared to rule against him at critical times then perhaps it shows how often he does get his turnover execution right.
If he's not immune from prosecution then perhaps the rest of the world should ponder whether McCaw avoids censure because he plays legally.