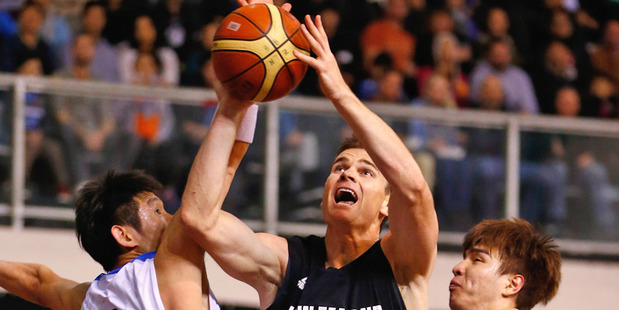 The Tall Blacks made it two from two at the Four Nations Basketball Tournament in China, defeating the Ivory Coast 79-55 tonight, in the process overcoming a slow start against a side who were an improvement on Cameroon from last night.
Once again head coach Nenad Vucinic rotated his roster throughout, with no player on the floor for more than 22 minutes as the team continues to build-up towards the FIBA World Cup in Spain at the end of the month.
It was a cautious start though against the physically imposing Ivorians, with the Tall Blacks trailing 8-12 after the first quarter but smashing the game wide open with a dominant second quarter performance to lead 34-20.
Best of the New Zealanders on offence was shooting guard Kirk Penney with 26 points on 7 of 13 shooting while he had good support from Corey Webster (13), Tom Abercrombie (11) and Tai Webster (10). The rebounding was shared around, albeit with captain Mika Vukona typically leading the way with 10 while the turnover count of 12 was way down on previous games.
Assistant coach Pero Cameron was pleased with the progression from the Tall Blacks.
"That was a bit more quality, higher level opposition with players from top leagues in Spain and France. After a slow start for both teams, I thought defensively we played pretty good, we locked up their players - apart from their centre who finished with 18 points but that was down to sheer size, we don't have the players to combat that. It was pretty good that we could lock him up in the 3rd and 4th quarters though.
"We saw a good game for Casey, backing up after injury, he gave us good energy and some important boards while offensively it was pleasing to see Kirk with 26 and get good contributions from Tom, Corey and Tai (Webster).
"Defensively we are not too bad, we are killing the boards, owning the rebounds at both ends of the floor. We are not a big team, losing Pledge and Nick and with a 16 year old in the five spot we have a lack of experience and size in that position but we are dealing with the boards with the whole five out there having to get the job done. Guys like Isaac and Tai Webster rebounding have been phenomenal. Then being able to lock up some quality scorers has been pretty good."
Isaac Fotu was equally impressed with the step up in opposition but also the performance of the team.
"Ivory Coast were a typical African team, very athletic and long but I think we played a lot better than yesterday, we were slow from the travel. We did well today but tomorrow will be a big effort against a better team. They are well drilled team that have been together for a long time, this is their home arena and they have some national team players with the crowd behind them, they will be more than we have seen in the games so far. Tonight was good though, we are all getting comfortable in different positions and the coaches are trying out different combinations which is great for us."
The Tall Blacks now face home team the Guangdong Southern Tigers tomorrow at 10:35pm NZT, the current Chinese champions in what will without doubt be the biggest test of the visit to China so far, playing in the Tigers home gym in front of a capacity crowd.
Tall Blacks 79
Pts: Penney 26, C Webster 13, Abercrombie 11, T Webster 10
Rebs: Vukona 10, Frank 7, Penney 5, T Webster 4, Abercrombie 4
Ivory Coast 55
Kone 18