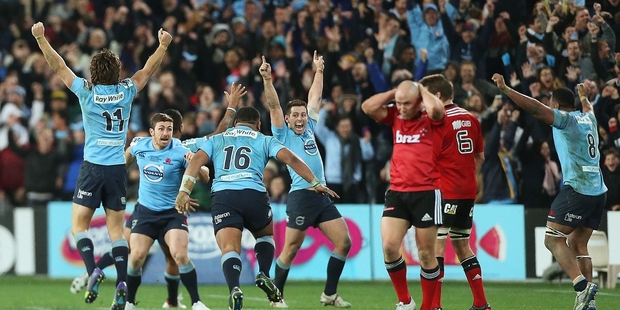 Australia's resurgence may have more about it than previously thought. The notoriously frail Waratahs came under the most intense pressure last night and stood up.
They didn't crack. They wobbled a bit, they threatened to fall over but it was Bernad Foley who held his nerve to land the winning penalty with a minute to go.
Plenty could be made of the decision by Craig Joubert to penalise Richie McCaw for coming in from the side of the ruck but, in the overall wash up, neither side could really complain.
They both got away with a bit of this and that, and didn't with a bit of the other. Not that it will make it any less painful for the Crusaders, who must have thought (when leading 32-30 with two minutes remaining) they could close it out.
It wasn't the ending they wanted, especially after they scrapped so hard to claw their way into the game after a torrid first half hour when they looked nervous and were all over the place.
To make matters worse, with the Waratahs scoring at their leisure, the Crusaders lost Daniel Carter to a leg injury.
Carter hobbling off midway through the first half was supposed to be a thing of the past. His sabbatical looked to have fixed up all those niggles, tugs and tears and was back to his old self.
In previous weeks he certainly appeared to be and what was worrying about his departure last night was the nature of how it all happened. He took a hospital pass, bravely hit it up into thick traffic and didn't come out in one piece.
Bad luck, maybe. Perhaps it was just a random collision that got him at a funny angle. Or is he no longer able, even after his extended period off, to withstand the carnage?
Hopefully it was one of the former and he'll be back running freely soon.
If it was just bad luck, then the Crusaders certainly balanced the ledger when Nemani Nadolo was awarded his try five minutes after the break. There was some brilliant running and offloading in the build-up, but it was dubious whether he touched it down and whether his foot was in play when he did.
The significance of awarding it was two-fold - it meant that for the first time since the second minute the Crusaders were on level terms. And more importantly, it reiterated the growing sense the visitors were slowly taking control of the game.
The momentum, piece by piece, was building in their favour. Their lineout was starting to exert itself - not only improve the quality of possession, but unsettle the Waratahs'.
The scrum dominance was becoming more obvious and nothing helps confidence grow quicker than an aggressive scrum making its presence felt. It was all about getting that foot on the throat and crushing the Waratahs.
The Crusaders were after control and accuracy and, yet, they also knew they had to keep the tempo high and play with width. It was a difficult balance to strike, what with the Waratahs not rolling over and letting them do it.
Then there was the added problem that opening the game up was exactly what the Waratahs wanted. There were constant reminders of the danger they posed. Little darts here and there, clever wrap-arounds and always Israel Folau. He was the man the Crusaders feared - his pace and timing stretched them and pulled them and tested their scrambling defence to the limit and beyond.
Waratahs 33 (A. Ashley-Cooper 2 tries; B. Foley 7 pens, con) Crusaders 32 (M. Todd, N. Nadolo tries; D. Carter con; C. Slade 6 pens, con). Halftime: 20-13.