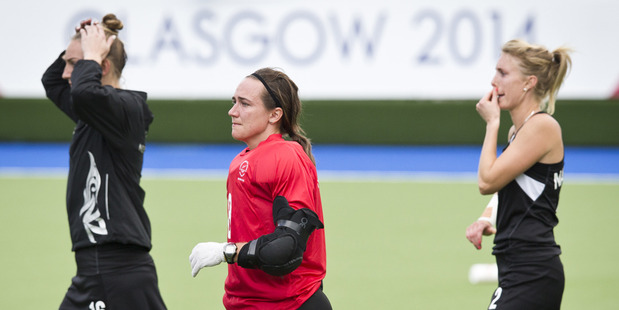 A quick bite of the best of the action from day nine at the Glasgow Commonwealth Games.
NZ medals today
0 gold 0 silver 0 bronze
View: Top pics: Commonwealth Games - Day 9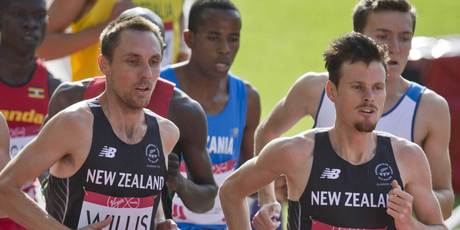 Heartbreak in the hockey
Turns out England's hockey players could teach the nation's footballers a thing or two about winning penalty shootouts. The Black Sticks women have been knocked into the bronze medal match after losing their semifinal to England in agonising fashion. New Zealand looked to be making an even earlier exit, until Katie Glynn's equaliser rescued their tournament with two minutes to play. But that reprieve proved temporary as England easily won the shootout 3-1.
Read:
• Medal table
• Kiwis in action
Boxers to fight for gold
Around the same time the Black Sticks fell behind against England, Kiwi boxer David Nyika was impressively winning his semifinal bout to advance to Sunday's gold medal fight. Nyika proved far too accomplished for Northern Irishman Sean McGlinchy, winning a unanimous decision after landing several handy combinations. The 19-year-old will now fight Kennedy St Pierre of Mauritius in the final. If it were judged by names, the Kiwi's got no hope.
Later in the morning, David Light won his men's 91kg semifinal fight, putting him through to the gold medal bout. Light overcame Scotland's Stephen Lavelle in a unanimous points decision. He will face Canada's Samir El-Mais in tomorrow morning's final. El-Mais had earlier beaten Efetobar Apochi of Nigeria in the first semifinal.
King and Knight save the day
What looked like a dreadful day at the squash was rescued by a King and a Knight. In quarter-final action, men's pair Lance Beddoes and Paul Coll lost to Englishmen Daryl Selby and James Willstrop in three sets, before Coll teamed with Amanda Landers-Murphy and endured double disappointment, being thrashed in straight sets by Australian mixed pair Cameron Pilley and Kasey Brown. Thankfully, Joelle King and Martin Knight, who won silver four years ago, then beat Indian pair Harinder Pal Sandhu and Joshana Chinappa 11-7, 8-11, 11-6 to advance to the semifinals.
Willis and Matthews qualify
Nick Willis and Julian Matthews have qualified for the 1500m final. Willis won his heat in a time of 3.40.76, but looked to be keeping plenty in reserve for the final. The second heat was a quicker one. Julian Matthews finished fifth with a time of 3.40.33, which was faster than Willis' time, and enough to see him qualify for the final. Zane Robertson, bronze medallist in the 5000m earlier in the week, was unable to make the cut today, finishing his heat with a time of 3.43.02. Also in the track and field, Siositina Hakeai finished fourth in the women's discus, Jake Robertson seventh in the men's 10,000m, Sarah Cowley ninth in the women's high jump while Portia Bing, Brooke Cull, Zoe Ballantyne and Louise Jones failed to reach the final of the 4x400m after finishing last in their heat with a national record.
Gold medal stripped
A 16-year-old Nigerian weightlifter was stripped of her Commonwealth Games gold medal overnight because of a positive doping test, a case that raised concerns about how such a young athlete had access to banned substances. Chika Amalaha tested positive for diuretics and masking agents after winning the 53-kilogram division last week, becoming the youngest female to win a weightlifting title at a Commonwealth Games. The gold now goes to Dika Toua of Papua New Guinea.
Still to come...
7.40am - Men's javelin qualifying - Stuart Farquhar
7.45am - Women's 800m final - Nikki Hamblin, Angie Smit
8.54am - Boxing - Men's 91kg semifinals - David Light v Stephen Lavelle (Scotland)
Medal tally