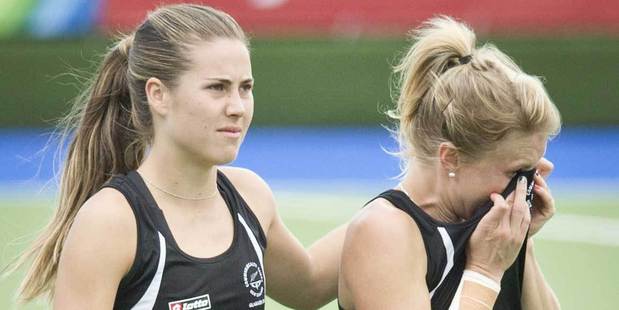 New Zealand are out of the gold/silver match at the Commonwealth Games after losing another shootout.
The Black Sticks were beaten 3-1 in the shootout by England, after scoring late to draw 1-1 in normal time.
In New Delhi four years ago New Zealand lost on penalty strokes to Australia in the gold medal match. At the London Olympics in 2012, New Zealand lost to the Dutch in a shootout in their semifinal, then produced a flat performance against Britain - which was effectively England.
The same opponents did for them at the national hockey centre today and New Zealand could have no quibble on the run of play.
They began well but soon fell off the pace. They looked out of sorts and England, perhaps sensing an opportunity, worked hard, bustled and won many of the 50-50 situations.
''We were skittish and standoffish," a bitterly disappointed coach Mark Hager said.
''England upped the tempo and were more physical than us and we tended to go into our shell a bit.
''When you've only got three or four players playing well out of the 16 it doesn't help. We made silly decisions and were very poor entering the attacking third.
''Whether the players got overawed by the occasion, I'm not sure."
Some players were holding back tears as they left the ground.
Only captain Kayla Whitelock managed to score in the shootout, as Anita Punt, Katie Glynn and Stacey Michelson all lost possession as England's goalkeeper Maddie Hinch confronted them. They failed to even get a shot away on target.
By contrast, England scored their first three goals to be sitting pretty, and Michelson's miss sealed the result.
The Black Sticks now play South Africa for the bronze medal tomorrow, after top seeds Australia belted them 7-1 in the first semifinal.
When New Zealand played the South Africans earlier in the tournament, they won 2-1.
England went ahead through a close range goal by Lily Owsley eight minutes before halftime.
England had other chances too as New Zealand managed to squander theirs, including five penalty corner opportunities.
Just when it seemed the game was up for New Zealand, Glynn deflected a Krystal Forgesson drive into the England goal with less than two minutes left.
New Zealand could have stolen it at the death, Michelson having a shot blocked and a fifth and final penalty corner was botched.
Whitelock, who had a commanding game in the middle of the park, said her players had practiced shootouts in some details, but admitted ''you can't simulate going into it".
''I just said to the girls be confident. We know she's a good goalie but we couldn't quite get there," Whitelock said.
The challenge now is to pick themselves up for the bronze match. In London they saved their worst until last, being beaten 3-0 by Britain for the bronze.
''I think we're all pretty gutted and there's a few tears going around. But we need to group back together and do the things we've been doing all week.
"That's the most frustrating part; we didn't put our game out there. That's disappointing."