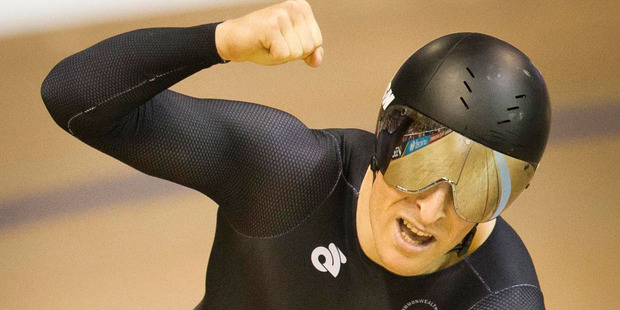 For all New Zealand's success at the Commonwealth Games velodrome, it might be that Matt Archibald's performances have given the track team management most satisfaction.
Consider this: they knew the likes of Sam Webster, Simon van Velthooven, Ethan Mitchell and Eddie Dawkins, skilled, gifted young men, would be in the frame for serious success. These are the hotshots of the track.
But Archibald, at 28, is the daddy of the sprint quintet, a bruiser who admits his racing lacks that touch of style, and a racer who has been something of a late bloomer.
He held the Commonwealth Games kilo time trial record for about 20 minutes on Saturday before van Velthooven and Australian Scott Sunderland blinked under him to take silver and gold.
Still Archibald was chuffed, it was just his second competitive ride in the event and as he spoke afterwards there was a real sense of belonging.
He has been seen as the reserve, the guy who did the donkey work in training for the younger guns to prosper.
''The coaches believed I could get up for a medal," he said.
''I'd focused on this event and the individual sprint (where he made the last eight) for the last four months. It was a lot of hard work and I guess that's the result."
His self belief has taken a quantum leap.
''I need a bit more finesse but it's been good for my development.
''To get up and be edged out by less than a tenth of a second by someone who is a world medallist is a huge confidence boost.
''There's a whole new focus for the world champs (next year) and the Olympics. It's pretty positive," Archibald said.
The Olympics is the focal point for the group. As Archibald put it, these Games are important but, bottom line, a stepping stone.
Archibald loves the ethos within the track sprint programme based at the Avantidrome in Cambridge.
''For the guys like Simon, Eddie, Sam and Ethan, they've all had, from a young age, the Olympic gold as their goal. I've come in halfway through.
''We all understand we have to work together to get there. There's no in house fighting.
''We all see each other as integral parts. My job is to push the other boys and hopefully keep them honest."
That philosophy might change slightly now. Archibald admitted he wants to be in the team sprint. Mitchell, Webster and Dawkins are the world and Commonwealth champions. But there are no guarantees in the months ahead.
They know that, and will expect Archibald to press hard. He's no shirker.
Indeed head sprint coach Anthony Peden spoke with feeling that Archibald is the only rider in the group who had not missed a single training session since the world championships in Colombia in February-March. His success was rich reward.
And so the challenge intensifies, with good spinoffs all round.
''I'm not going to be just in reserve. They see that as motivation to push them harder and harder," Archibald said.
''Eddie and I have been doing that for years in Invercargill, when no one else was at the velodrome training in the cold."
Now it's Cambridge, a bit warmer for a start, but with all the amenities and facilities in one spot.
There is a firm collective will about this group. Archibald, perhaps more than any of the younger men, demonstrates that better than anyone.