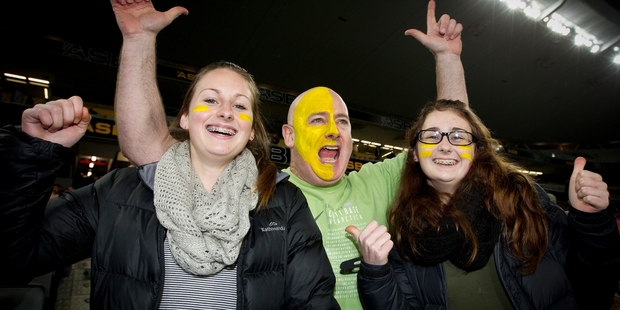 It may have been a friendly, but that didn't stop the Phoenix making the most of last night's 2-1 victory over English Premier League outfit West Ham United clash at Auckland's Eden Park.
Supporters of both clubs turned out to cheer on the teams, with a rowdy collection of West Ham fans marking their territory early on - occupying seats behind the English Premier team's goal in the first half.
The Phoenix, which underwrote and promoted the match, needed a crowd of more than 20,000 to break even.
The final ticket sale count was 19,183.
Aucklander Rob Nell brought his teenage daughters Jessica and Kyra to the match.
Both girls play for the West Auckland Football Club and are big fans of the Phoenix.
"They're all about football," Mr Nell said. "I'm just the support crew."
The trio, who donned yellow face paint for the occasion, were sitting in "the best seats", on the halfway line.
Kyra, 16, said her favourite Phoenix players were Tyler Boyd and Ben Sigmund.
"Ben Sigmund because he's a defender and I play defence when I play football. I think Tyler's just really skilful," she said.
West Ham fans Mark Thorndyke and Callum Tancock brought out their club jerseys for the match.
The pair, seated among a large number of West Ham fans, watched in awe, despite the Phoenix claiming their two goals within the first 30 minutes of the match.
Mr Thorndyke, 46, said he had supported the English team since he was 4 years old.
The North Shore resident, who was originally from Essex, said it was fantastic to see his team in New Zealand for the first time.
"I'm so emotional.
"As West Ham fans, we get up every Sunday morning at four to watch them.
"It's not always easy being a West Ham fan, but it's all about loyalty.
"I think it's great they've made the effort to come out to New Zealand. It's fantastic," Mr Thorndyke said.
And while the crowd enjoyed a jovial match atmosphere, a few moments of silence were observed before kick off in honour of two Newcastle United fans killed in the Malaysia Airlines MH17 tragedy.
John Alder and Liam Sweeney were heading to New Zealand to support Newcastle when the plane was shot down over eastern Ukraine.
Photographs of the men featured on the big screen during the match.