From North Harbour to Auckland via France, Japan, Fiji and the heartland — Paul Feeney has arrived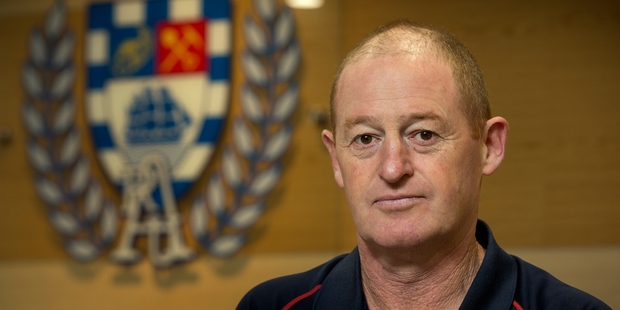 "Don't congratulate me - I haven't done the job yet," says Paul Feeney, the new Auckland NPC rugby coach.
But it is so tempting, after Feeney was promoted from assistant when his old mate Wayne Pivac signed with Llanelli Scarlets in May.
It is 17 years since Feeney, the mercurial fullback during the 1980s birth of the North Harbour union, first targeted a top head coaching job in the national championship.
He's travelled the odd highway and lots of byways around the world, hanging on to his dream.
The 50-year-old coached Takapuna and Pakuranga, assisted Peter Thorburn with North Harbour in 1997, was player coach for a second division French side, coached Ricoh in Japan for two years, helped Pivac lead the Fijian sevens to a world title and qualify their 15s for the World Cup, been a high performance manager, team manager and assistant coach for Bay of Plenty, and coached tiny Poverty Bay to Heartland titles.
What appears a helter skelter coaching existence is in fact the story of a man who refused to give up.
"I love coaching but you can't talk about career pathways with me," says Feeney, a former policeman who has been a fulltime coach since 2002.
"I have tried to stay alive in the coaching game. It means we've jumped the kids around since going to Japan in 2002 - when they were aged 8, 6 and 5 - and they've seen a lot of places.
"I could not have stayed in the hunt if [wife] Claire wasn't so flexible and positive about the moves. Without her behind me, and with a young family, my coaching career would have been washed up a long time ago."
Feeney was an Auckland schools representative, an inside back, who emerged as a free spirit at fullback for the new North Harbour team as it worked through the divisions under the famed captaincy of Buck Shelford.
It was a team full of characters guided by Thorburn's obsessive analysis and good-natured coaching.
Feeney fitted the billing of character, including off the field where he was known as a lovable loon, a reputation some think made his later coaching prospects tougher than necessary.
Feeney doesn't shy away from his reputation, recalling a report card from Rosmini College which described him as "facetious, frivolous, bumptious with too much levity and hilarity".
Thorburn, a former All Black selector, says: "As a player he saw things happening way before others did and had the skill to do something about it. I also think he is an outstanding coach.
"He is what I would call mischievous. I remember visiting him in France and he drove round the Arc de Triomphe the wrong way, not to be bad but because it was there to do.
"He's worked hard to get rid of that mantle ... He is dedicated, extremely loyal, and has really coached. He's done his apprenticeship all right."
That he has, with characteristic enthusiasm. The stint with Ricoh provided savings to survive lower level coaching jobs in New Zealand. But while many go to Japanese rugby only for the money, Feeney loved the experience. He was so taken with life in Gisborne that but for coaching career demands, he would live there.
The journeys have given him character-building experiences and insights into the nooks and crannies of New Zealand rugby. Among many stories, he recalls travelling to a sheep station to work out a deal with his star Poverty Bay player, future Japan representative Michael Broadhurst, when Broadhurst was struggling to train while working as a shepherd.
Feeney's Auckland job involves promoting players to higher levels and understanding what the Blues need from individuals.
Described in its simplest form, his plan involves creating a hard-working forward pack that never gives up and backs who sparkle - characteristics, you might say, that reflect the man himself.