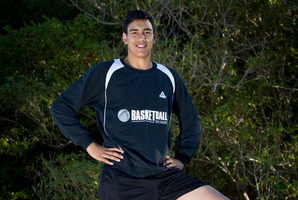 Auckland teenager Tai Wynyard will make his debut for the Tall Blacks tonight when they host Korea in Wellington.
The 16-year-old is one of a clutch of talented youngsters coach Nenad Vucinic has at his disposal and the Super City Rangers forward will get his chance early in the three-match series, which marks the start of New Zealand's build up to August's World Cup in Spain.
Jarrod Kenny (ankle) and Casey Frank (calf) weren't considered due to injury, while the delayed arrival of point guard Tai Webster from the US meant he was left out.
Jack Salt and Tohi Smith-Milner were the other players in the 17-strong squad not selected but they will likely get a chance when the series moves to Tauranga (Thursday) and Auckland (Saturday).
"Every one of the players we have with us in this camp wants to be involved and wants to pull on that black singlet," Tall Blacks assistant coach Pero Cameron said.
"This is a test series though and there is not a lot of court time to be handed out, even 12 players is a lot to have in the one game but the better they play, the more minutes they will get."
"Our selections now and the whole way through to Spain will be about performance but will also be about contributions made on and off the court. It is in part how each of them makes the team work, it is not always as simple as choosing the best players."
New Zealand are ranked 19th in the world, while Korea are 31st.
Tall Blacks: Corey Webster, Lindsay Tait, Josh Bloxham, Everard Bartlett, Kirk Penney, Tom Abercrombie, BJ Anthony, Mika Vukona, Isaac Fotu, Nick Horvath, Tai Wynyard, Alex Pledger.
- APNZ