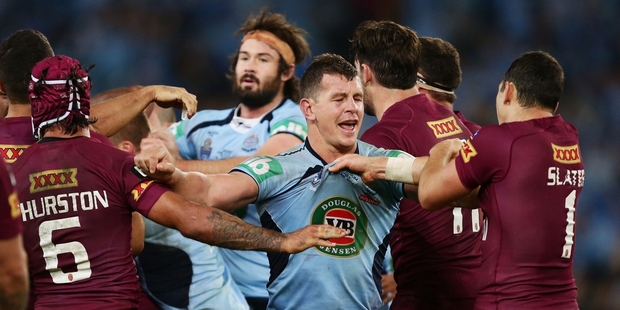 Tired of war analogies in sport? It's a minefield but allow me to come out of the trenches, pull the pin and give you both barrels.
Two incidents last week triggered this onslaught.
First, let's relive the introduction to State of Origin III. Even the great Ray 'Rabs' Warren resorted to "The blue army standing as one, after years of defeat, finally saluted its triumphant generals" in reference to New South Wales' series win. Cue epic music.
Then Malaysian parliamentarian Bung Mokhtar Radin somehow linked Germany's World Cup semi-final demolition of Brazil with praise for Adolf Hitler by tweeting "Well Done..Bravo ... Long Live Hitler ... ". He has refused to apologise. "I don't know what's wrong with people sometimes. Hitler is part of history and the German team fought like how he did," he told Malaysia's Star newspaper, suggesting his tweet was just for fun. However, it's quite a stretch to link a football victory with the leader of Nazi Germany who enacted a holocaust resulting in the death of millions of Jews.
Sports fans are probably best to take a wide berth when it comes to human conflict and follow Basil Fawlty's albeit ill-fated advice of "don't mention the war" to his German guests in a Fawlty Towers episode. War references slip too readily into the sporting lexicon.
It's an easy leap to analogise about battles, clashes and guerrilla tactics; or to use military nomenclature such as generals, commanders and lieutenants; or to use terms such as ambush, arsenal, blitzkreig, bombs and bulletproof to begin the alphabetic list. Most of us are guilty of doing so, often unintentionally; at worst it's done out of laziness and ignorance. Some will say it is too PC but there's little in modern-day sport to compare with wielding a bayonet, leaping the parapet and charging into a warzone where lives rather than egos are threatened. One example is the annual discomfort of the Anzac league test. It is marketed under the guise of paying respect to fallen Australia and New Zealand war comrades, yet paradoxically the sacred term is exploited for commercial benefit. War is prevalent in our franchise names too, such as rugby's Crusaders, league's Warriors and cricket's Knights. It's a convenient sporting leverage tool.
In recent years American sports writers have been on 'the front line' arguing against inane sport-war hyperbole, especially post-September 11, 2001. A fortnight after that catastrophe, Boston Globe columnist Michael Holley wrote: "There are already soldiers who have left their families so they can fight. Some of them, unfortunately, will not return. They won't have the luxury of having their contest officiated and wrapped up in a neat 60 minutes, 48 minutes or nine innings. Most of them never will have the money or the fame of the misnamed warriors who play games for a living ... a sports-war connection is more than trivial. It's disrespectful."
Also, consider South Florida Sun Sentinel sport editor Joseph Schwerdt's open letter to LeBron James in March 2011 as the father of two marines: "Dear LeBron, just wanted to let you know: You are not at war. You are not a soldier. What was said on your KingJames Twitter post? '20+ games left in phase 2. I'm ReFOCUSED! No prisoners, I have no friends when at WAR besides my Soldiers.' You can tweet it all you want. But what you do and who you are is not even close to what they do and who they are.
"You travel to your games in the comfort of a chartered plane. You go home to an opulent mansion. You have little danger of coming home in a flag-draped box. You carry a basketball, not a 50-pound backpack and a rifle. You wear sneakers, not boots. You wear a jersey, not a kevlar vest. In Afghanistan right now, soldiers and marines are sleeping in bedrolls outside in the cold. They cook over an open flame. Think of that the next time you load up at the clubhouse buffet."
Similarly, in a March 2003 New York Times article, Dave Anderson lambasted former NBA basketballer Tyronn Lue who compared the ongoing war to the NBA by saying: "We have a war to fight, too. The Washington Wizards are trying to make the playoffs. It's pretty much the same thing."
The final word is reserved for one sportsman who knew about such matters: former Australian cricketer and World War II fighter pilot Keith Miller. Asked to compare the pressures of war and cricket he said: "Pressure? I'll tell you what pressure is. Pressure is a Messerschmitt up your arse, playing is not."
Now that's perspective.