If your fancy wasn't close to the pace at Te Rapa on Saturday you were out of business.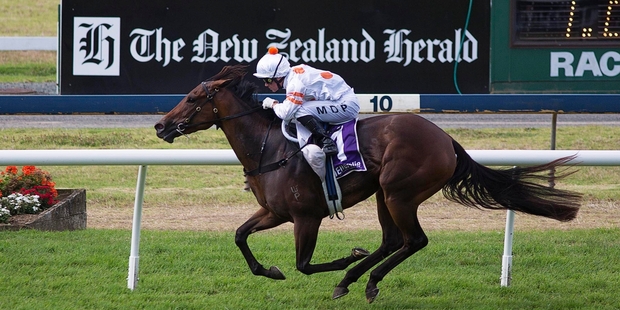 We've seen track bias and track bias, but you need a good memory to come up with one more pronounced than at Te Rapa on Saturday.
The bane of all form students and serious punters hampered the entire Taumarunui programme.
To say the inside and on-pace bias was strong is a huge understatement.
Generally, on winter tracks we see a good percentage of winners come from off the pace and up the middle of the track in the home straight.
On Saturday that was suicide.
Here is where the first three placegetters were in each race soon after rounding the home bend.
R1: 2nd, 5th, 7th (rails).
R2: 1st, 2nd, 4th equal.
R3: 3rd, 2nd, 1st.
R4: 2nd, 1st, 4th.
R5: 3rd, 1st, 2nd.
R6: 3rd, 1st, 5th.
R7: 2nd, 1st, 10th.
R8: 1st, 2nd, 5th.
The only exception to the rule that it was virtually impossible to come from the back of the field was Gesemi in Race 7, who fairly flew down the home straight from well back, making something like 10 lengths to finish third while none of the other runners could make any progress.
Given the racing pattern, her third placing was remarkable and stamps her as a horse to follow.
If you did your form properly you were out of business almost right from the start. Apart from Gesemi any horse that drifted out into the centre of the track in the home straight was stopped in its tracks.
The average win dividend on the eight races was $17.30. The average quinella $120.30 and the average trifecta $2551.10, making it a perfect day for those who back numbers, the name of your auntie or favourite racing colours. If you had a bet and it missed, don't drop the horse because anything that got back was severely inconvenienced.
Overall, the form will confuse punters going forward. Many of the beaten runners can be forgiven, among those that it noticeably affected were Elroi, Vegas Night, Dubai Wolf, Fair Fleet, Prospero, Guru Girl, Joey Jonz and Rafa.
Track bias is nothing new, but it is rarely as fierce as we saw on Saturday and generally some of the better runners will buck the bias.
The most significant bias I have seen was on Victoria Derby Day at Flemington in 1997, when Mike Moroney won the Derby with Second Coming.
Every leader on that programme won, on a day that is regarded as one of the world's finest with each race a stakes event, yet not one classy runner could defy the bias.
Staying in the Waikato region, group one sprinting spoils in Australia have been rare for Kiwi gallopers in recent times but that's not dissuading Matamata trainer Ken Kelso as he plans the spring programme of ace filly Bounding.
Instead, Kelso reasons that Bounding has already broken a 33-year jinx on 3-year-old fillies winning the Railway Stakes at Ellerslie earlier this year so she has already proven she can break new ground.
The Lonhro filly has pleased him no end since returning to training about a month ago.
"She's been back in work nearly a month and she's coming along really well," Kelso said.
"I'll just play it by ear with her. Whether she kicks off here or goes straight to Australia, it's probably really just down to track conditions. It's hard to set a programme for horses at this time of year here but the plan is to get her to Australia for the two group one sprints in Melbourne.
"It all hinges on how she's coming up but if we go straight to Australia, she'll probably have a trial here first. Otherwise we'll try and find a suitable 1200m race here for her before we go."
Bounding's sprint aims are the Manikato Stakes at Moonee Valley on October 24 and the VRC Classic at Flemington on November 8.
- Additional reporting, NZ Racing Desk