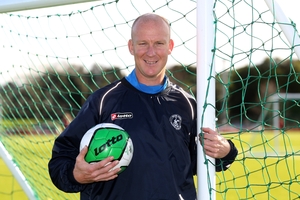 Interim All Whites coach Neil Emblen has been cut from New Zealand Football's shortlist of applicants for the top job.
Emblen, who led the All Whites in their 4-2 loss to Japan and 0-0 draw with South Africa last month, had an interview last Friday, but failed to make the final list of three still being considered for the coaching role.
"I'm very disappointed but the decisions are out of my hands," Emblen said. "I thought I did all I could, but that's part of football."
"They [NZF] said that the three candidates that have been shortlisted are more ready in their eyes at the moment for international coaching, but they hope to still have a role within New Zealand Football for me."
NZF remain silent about who the three left are, though the Herald on Sunday last week revealed that former England captain Terry Butcher, ex-Premier League manager Lawrie Sanchez and former Northern Ireland international Ian Dowie were among the more high-profile overseas applicants.
Former Australian coach Frank Farina, Oceania Player of the Century Wynton Rufer and Auckland City coach Ramon Tribulietx have also applied for the job.
"We're in an employment process at the moment so we are not able to comment at the moment about any of it," said NZF high performance manager Fred De Jong. "But we hope to have a decision in a couple of weeks."
The job became available after the resignation of Ricki Herbert last November, following the 9-3 aggregate loss to Mexico in the World Cup qualifying playoffs, where Emblen acted as assistant. Emblen held the deputy role since March 2011 and has expressed an interest in staying on in that capacity.
Since then Emblen appeared to win over the playing group as a coach with captain Glen Moss proclaiming "for me, he's got the job and it's up to someone else to knock him off", after an impressive result with an inexperienced squad against South Africa.
He also appeared to have widespread support at grassroots level, where he remains a popular figure.
More than 100 applications were received from across the globe after NZF formally advertised the role in May.
The selection panel is comprised of NZ Football chief executive Andy Martin, de Jong, former All White Ivan Vicelich and Graeme Robson, a performance planner from High Performance Sport NZ.
The successful appointee will get his first taste of action on September 8 with the All Whites set for an away friendly against Uzbekistan, Asia's fourth-ranked nation, in Tashkent.