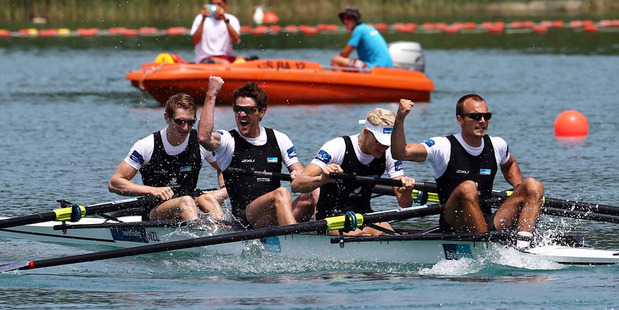 New Zealand's elite rowers had a stellar day at the second World Cup regatta in Aiguebelette, France last night.
With crews in seven A finals, New Zealand bagged five gold medals, plus a bronze in the women's quad, and a fourth in the men's double scull. Three other crews, the women's double and pair and the men's quad, all won their B finals.
Olympic champion single sculler Mahe Drysdale, who had spoken of being happy if he made the podium in France before leaving New Zealand, made a triumphant return after a lengthy break by winning his A final. However Drysdale had to do it the hard way.
Last at the 500m mark, he was still only fourth at halfway and second with 500m to go before overtaking Czech Republic rival Ondrej Synek, and winning in 6min 55.150s, 1.9s ahead of Synek.
Other wins went to women's single sculler Emma Twigg, who took the lead at the halfway mark and held off China's Jingli Duan by 1.8s; the never-been-beaten men's pair of Eric Murray and Hamish Bond, who crossed more than 10s ahead of their German rivals; the men's lightweight four and lightweight single sculler Julia Edward.
Edward had been due to contest the Olympic class lightweight double, but her partner Lucy Strack is back training on Lake Karapiro working on technical elements of her performance, meaning Edward had to do the non-Olympic single seat event.
She won well, leading all the way, in 7:41.170 from British and Chinese rivals.
The lightweight four of James Hunter, Peter Taylor, James Lassche and Curtis Rapley turned in an impressive display, winning in 5:53.810, beating home the fancied Danes by almost two and a half seconds.
The women's quad of Georgia Perry, Lucy Spoors, Sarah Gray and Erin-Monique Shelton did well to nail third, less than 2.5s behind second-placed United States with Germany convincing winners.
Brothers Robbie and Karl Manson turned in a handy display, taking fourth in the men's double scull, in a tight finish in which winners Croatia, Azerbaijan and Australia were covered by less than 1s.
The third and final cup regatta is at Lucerne on July 11-13.