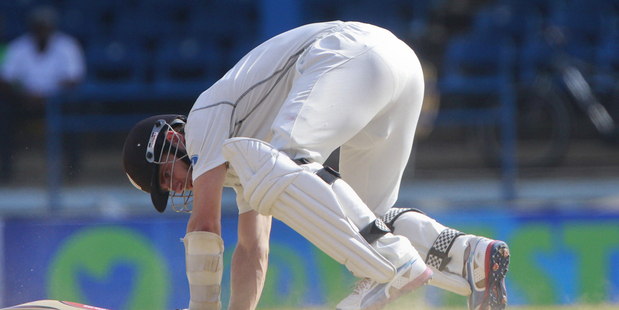 Tom Latham hasn't put a foot wrong as a test opener; Kane Williamson's resolute qualities are not in doubt.
The two young men shape as key to New Zealand's prospects of surviving the second test against the West Indies.
When they resume the fourth day early tomorrow at 73 for one, New Zealand will be trailing the hosts by 166 runs, with their captain, Brendon McCullum already dismissed and a question mark over the health of opener Hamish Rutherford.
A far cry indeed from the first test in Jamaica, won so handsomely by 186 runs.
In fact the West Indies have got themselves into a formidable position in similar fashion to New Zealand in Jamaica, dismissing the opposition cheaply in their first innings, piling on a strong first innings of their own - in which two batsmen, Kraigg Brathwaite and Darren Bravo (for New Zealand read Williamson and Jimmy Neesham) made centuries and Jermaine Blackwood added a lively half century on debut.
The task is tall for New Zealand.
Still Latham, with scores of 83, 73 and 82 in the series, and Williamson, who hit his sixth test hundred in Jamaica and has now eased his average up to 37.12, are well capable of hunkering down. Latham is just 20 runs short of becoming the eighth Black Cap to score four successive half-centuries.
Rutherford's illness did raise one interesting point, though.
McCullum, a former test opener, whose days going in first appeared to be over after the tour to South Africa at the start of last year, stepped up to fill the temporary vacancy.
This is the man who scored New Zealand's first triple test hundred four innings ago, has averaged 49.9 since the start of England's visit early last year and who, you'd have thought, should have been best employed in his usual position.
Clearly pushing wicketkeeper BJ Watling up to the top, after hours in the field, was not on, but this was a case where perhaps Williamson and the following batsmen should simply have moved up a spot.
Consider Williamson has been a de facto opener all last summer as Peter Fulton and Hamish Rutherford battled dreadful batting yips. Since putting on 95 against the West Indies in Dunedin in the first test of the home summer, that pair have average 14 for the first wicket.
Would Williamson have been significantly handicapped by having to walk out for the first ball with Latham? Don't think so.
Instead McCullum, first test failures notwithstanding, was removed from a position in which he must feel a high degree of comfort.
McCullum's 302 at Wellington against India was a monumental demontration of defiance and concentration. New Zealand will need those qualities in abundance over the next two days.
Instead the player who has proven he can do it most recently, has been removed from the equation for a short term fix.