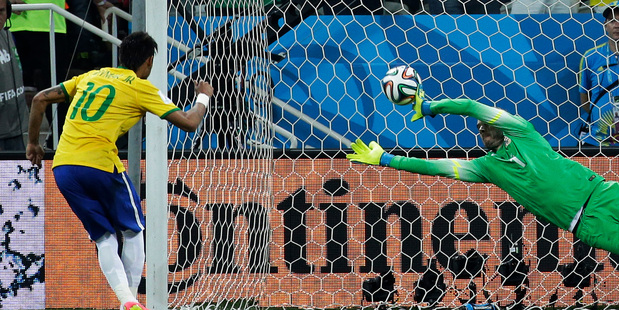 The 2014 FIFA World Cup opened in Sao Paulo today with hosts Brazil taking on Croatia.
We picked out the best tweets to recap the action.
The home side were buzzing (this time without vuvuzelas) after a very emotional and rousing rendition of the Brazil national anthem.
Had goosebumps listening to the Brazilian anthem. Not quite the Haka but not far off. Bring it on.

— Didi Hamann (@DietmarHamann) June 12, 2014
That stadium looks a bit like @WestpacStadium #yellow #WC2014

— Jason Pine (@pineyzb) June 12, 2014
Three white doves were released to officially open the tournament. According to reports only one made it out of the stadium.
(Bad news for world peace: two of the doves appear to have crashed into the stands)

— Hadley Freeman (@HadleyFreeman) June 12, 2014
The Arena de Sao Paulo is drenched in sunshine as kick-off approaches. pic.twitter.com/gCCglnfAc1

— 2014 World Cup (@2014WC_Brazil) June 12, 2014
Someone at Sky TV might want to check the 'Book of flags'.
Correct me if I'm wrong but I'm sure these are the flags of Algeria and Argentina?? pic.twitter.com/to7Lwne8UQ

— Jeremy Brockie (@JRBrockie) June 12, 2014
Croatia took a shock 1-0 lead after Brazilian defender Marcelo bundled the ball back into his own net.
Photo / AP
Script torn up, shredded and thrown out the window. And then burnt.

— Football Clichés (@FootballCliches) June 12, 2014
Just like we predicted, a Brazilian scored the first goal in the World Cup

— Nate Silver (@NateSilver538) June 12, 2014
Posterboy Neymar, the Sonny Bill of Brazil, scored the equaliser for the home side. Cue fireworks.
Photo / AP
Fireworks going off all across the Sao Paulo skyline after Neymar equaliser

— Oliver Holt (@OllieHolt22) June 12, 2014
Neymar with the early candidate for most spectacular underwhelming mishit of the tournament.

— Brian Phillips (@runofplay) June 12, 2014
New technology on show in the opener failed to impress viewers.
REVEALED: Marcelo's own-goal DID cross the line! Good spot from ITV. pic.twitter.com/Su0VRyLVAB

— BBC Sporf (@BBCSporf) June 12, 2014
Beautiful straight line painted by the referee with the vanishing spray (ridiculous)

— Chris Chang (@ChrisChang_nz) June 12, 2014
I like this vanishing spray FIFA are using for this World Cup. Would it work on Sepp Blatter?

— Gary Lineker (@GaryLineker) June 12, 2014
HALFTIME: BRAZIL 1 CROATIA 1
Not for the first time, a Twitter user had to deal with mistaken identity on a global scale.
To all those hurling abuse at me for scoring an own goal, please re-direct your anger to @12MarceloV. Thank you

— Marcello (@Marcello) June 12, 2014
The second half didn't have as much drama as the first....
How do I end up watching Friends during the #WorldCup debut game?

— Maria Sharapova (@MariaSharapova) June 12, 2014
How to get your "Brazilian Name" Take the 1st letter of your 1st name. Take the rest of your 1st name. Take no letters from your last name.

— Joseph Moore (@josephmoore1) June 12, 2014
...until Brazil got a dodgy penalty in the 70 minute when Fred hit the deck in the box.
The first voluntary simulation plunge of the World Cup...

— Soccer Guy (@usasoccerguy) June 12, 2014
Damn these guys are good actors!

— Sonny Bill Williams (@SonnyBWilliams) June 12, 2014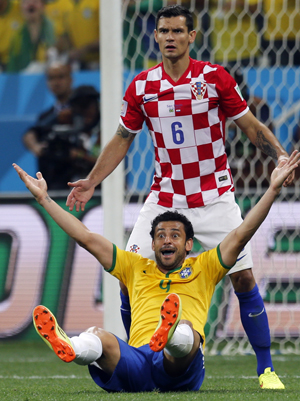 Photo / AP
POLL: Was Yuichi Nishimura right to award Brazil that penalty? RT for No. Fav for Yes. #WorldCup #BRAvsCRO pic.twitter.com/hNoVxTyaRc

— Sky Sports Football (@SkyFootball) June 12, 2014
Was it a penalty? That's an overwhelming NO from Twitter.
FULLTIME: BRAZIL 3 CROATIA 1