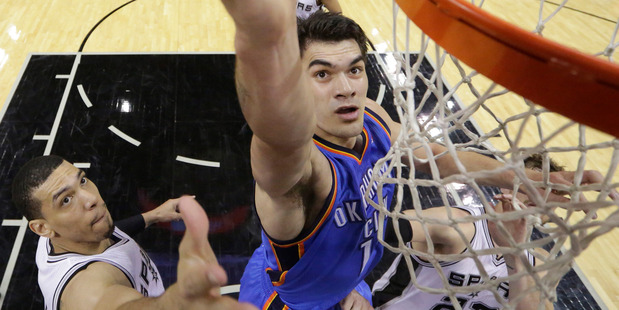 Steven Adams could be coming to the end of his debut NBA campaign but his impact can be assessed two ways.
Firstly, there was the news that Adams was voted into the All-Rookie second team, with 125 members of the American media ranking the Kiwi among the top 10 players in their maiden season.
And then there was the appraisal of Tony Allen who, after his Memphis Grizzlies were knocked out of the playoffs by the Oklahoma City Thunder, described on a 1-10 scale his antipathy to Adams as "like 50".
The pair of evaluations is far from mutually exclusive, considering Adams' abilities as an agitator are part of what has made him such an effective player off the bench during the Thunder's playoff run.
That run could conclude next week, with Oklahoma City needing a win at home in tomorrow's Western Conference finals third game to start climbing out of the 2-0 hole against the San Antonio Spurs.
But even if Adams has only two games left in his rookie year, the 20-year-old has overwhelmingly exceeded the most optimistic expectations when he was taken No12 in last year's NBA draft.
Having averaged 3.3 points, 4.1 rebounds and 50 per cent shooting in 81 regular season games, Adams earned the All-Rookie honour after receiving nine first-team votes and 47 for the second team. He is the only rookie team selection still playing in the post-season.
The 2.13m centre has again proved his value to Oklahoma City in the playoffs, recording a second career double-double and logging his two highest game-time tallies (40 minutes against the Clippers and 33 minutes against the Spurs).
He has also created yet more waves with his physical play, with Memphis' Zach Randolph becoming the fifth player to be suspended or ejected for punching or striking Adams.
While his aggressive style endears Adams to team-mates and Thunder fans, he has had the opposite effect on opponents. Allen, still aggrieved after Randolph was suspended for Oklahoma City's clinching game-seven victory in the first round of the playoffs, certainly made that clear.
"That's one of his tactics," Allen said. "You don't have to just play. That's a measly guy. You don't have the shine to do that, throwing cheap shots, things of that nature.
"It'll catch back up with him. Somebody gonna probably hit him and it's not gonna be a push next time. He better be careful who he doing that stuff to."
Adams has expressed his bemusement at causing such annoyance to opponents, but the Thunder's title hopes could be enhanced if the Kiwi manages to get under the skin of a San Antonio player.
- APNZ