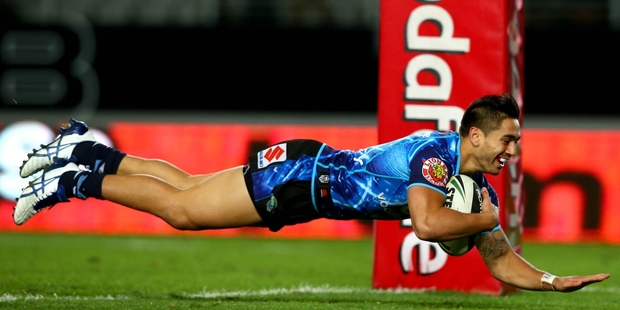 The next four weeks could define the Warriors' season.
After their stunning 54-12 win over Canberra on Saturday night at Eden Park the Auckland club are climbing back up the NRL table, just two points outside the top eight. That looked unlikely after the first seven games, when the team recorded just two wins.
Now there is a chance to build momentum. After Sunday's match against the Bulldogs in Hamilton, they face the Titans (away), the Knights (at Mt Smart) and the resurgent Rabbitohs (in Perth).
Win at least two of those matches - which looks feasible on form - and the Warriors will be well-placed to capitalise on a favourable end to the season, where they play seven of the last 11 matches at Mt Smart.
"Learning how to win is really important," said coach Andrew McFadden. "We had been putting in the effort in the weeks leading up to the Melbourne game and not got the result; sometimes you just need to find a way to win.
If we keep training well and we are winning, we will definitely get some momentum going."
Standoff Shaun Johnson said: "It's going well now but there is no way we will get carried away. We still have a lot to improve on and there are some big tests ahead."
There was a lot to like about Saturday's performance. Fullback Sam Tomkins is growing in confidence with every week and his combination with Johnson and Chad Townsend continues to develop.
At times on Saturday, Tomkins played like Storm fullback Billy Slater, chiming into the backline at full speed, before hitting his outsides with precise flat cut-out passes.
"Sam contributes so much," said Johnson. "There has been a lot of focus on him - and a lot of criticism - which has been a bit unfair - but he is really professional."
It was redemption time for Konrad Hurrell, who gave a brutal display after his well-publicised off-field dramas. He shredded the Raiders' left edge defence and managed his first 80-minute effort of the season.
"At training last week you could tell he was really focused," said captain Simon Mannering. "It's probably a hard thing to put that media attention to one side but he did it really well."
Ben Henry was again impressive at centre and the forwards defused Canberra's pack with a solid display.
While the focus from Saturday will fall on the attack - and many of the nine tries were spectacular - the defensive effort was particularly pleasing. It feels like the Warriors have rediscovered their defensive discipline.
Canberra are in a hole but they are still a threat on attack, especially with Terry Campese, Anthony Milford and Reece Robinson.
But they were nullified by the home side.
It followed the effort in Melbourne, where the Warriors didn't concede a point after the 44th minute, despite relentless Storm pressure.
It's quite a turnaround. The Warriors were conceding more than 25 points a match in the first seven rounds, and only restricted their opponents to less than 20 points on two occasions. It's a sure-fire recipe for disaster, which has thankfully been righted.