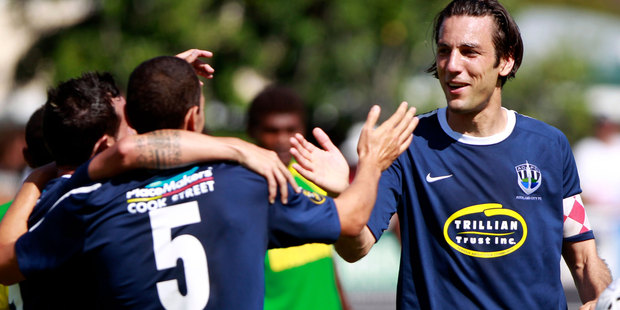 Amicale 1
Auckland City 1
Auckland City will hold a slight advantage heading into the second leg of the OFC Champions League final next weekend, after scoring an important away goal in their 1-1 first-leg draw with Amicale today.
The Champions League winner earns a lucrative spot at the FIFA Club World Cup in Morocco and standing in Auckland's way was a side they lost to in the OFC qualifying tournament, 10,000 passionate Port Vila fans and scorching 30 degree heat.
But they got off to a flying start in the 29th minute when ASB Premiership golden boot winner Emiliano Tade capitalised on a defensive error from Esava Naqaleca before slipping a cool finish past Chikau Mansale to give the visitors a 1-0 lead.
Amicale struck back in an explosive second half through a superb long-range strike from Dominique Fred in the 79th minute.
Both sides struggled to deal with the bumpy pitch and Auckland City coach Ramon Tribulietx was left frustrated that his side were unable to implement their passing game.
"Unfortunately, the playing surface wasn't the greatest, it was an uneven surface, not only for us but for Amicale as well," he said. "The goal we conceded came from a bobble and that was the story for us."
"I felt we dominated in the first half, we knew we had applied pressure but in the second half Amicale had to make a couple of changes to get something from the game.
"They played more longer balls and picked up the second phase possession and that's how we conceded a goal. But a 1-1 result with an away goal is very important. We need to rest and recover now because the second game is going to be very tight."
Tribulietx is cautious about Auckland being labeled as favourites heading into the second leg.
"It's going to be very, very, tight. Amicale have got everything - they have good strikers, good experience, players who have played in Europe who are used to playing on surfaces like Kiwitea Street that allows teams to play a particular style of football.
"We've got a slight advantage but if we think that will be enough next week to win the OFC Champions League then we have a problem. We have to prepare properly and make sure we compete well in what now shapes up as a one off game."