The past has a habit of following Super Rugby sides around.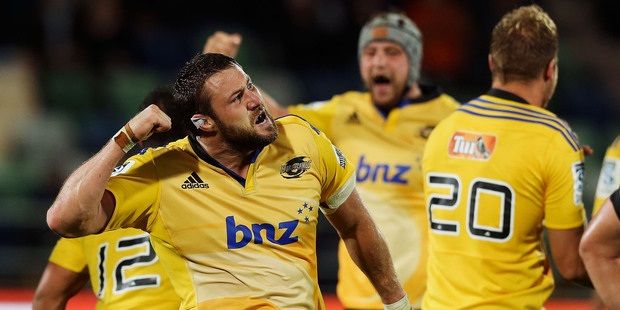 Face it, people: there is no escaping history today. Even that opening sentence is now in the past and you're still in the same paragraph. So, really history is always just behind you. History is time's version of stalking. And with that duly noted, we may as well delve a little deeper into the recent past for a timely lesson in which teams are where and why, and why and how those teams that wish they weren't there at all could get to somewhere they wish they were.
For starters, there's that team based in Auckland that this week announced its grand plans to ignore history had backfired when the Tiger who came to tea claimed the milk had spoiled and returned his monogrammed saucer before walking out the door. Oops.
However, today is also a day to celebrate gallantry and, undeterred by the historically impossible task of making the playoffs when 11th on the table, said team will march bravely on to Eden Park buoyed by the big crowd that will be on hand tonight to watch a league convert starring for a rugby team.
Across in Canberra we'll be reliving history of a sort when the Brumbies, fresh from the bye, take on the Chiefs in a repeat of last year's final. There is one thing to consider here: the Chiefs haven't lost consecutive matches since rounds nine and 10 last year, so, well, I guess there's that to think about. There's also the small issue of the Brumbies being the best lineout team and most accurate breakdown team in the competition, and you only have to think back to six days ago when the Chiefs were hurt badly in both areas. History's lucky; it's a bob each way depending on how it chooses to repeat.
And if it wasn't enough for Super rugby to commemorate Anzac Day by pitting Australians against New Zealanders tonight, the schedulers do it all again tomorrow night when the Hurricanes host the Reds.
I am sure I'm not alone when I ask, why are the fans so quiet about the Hurricanes? Surely there should be at least a hint of the hum of hope emanating from the lower North Island by now. They've won four out of their last five and still, barely a peep. Even two out of three was good enough for Meatloaf. If Shakespeare was alive he'd be penning a play called No Ado About Something - an 18-act epic starring world rugby's most exciting ensemble cast, performed to an audience of three.
Think about it. Even though the Hurricanes could finish the round atop the New Zealand conference, and even though they are in their best round 11 position in three years, are killing defences and have the most electric backline in the competition, and even though it's been 16 years since the Reds won in Wellington ... oh what's the point? Let's just admit that the Hurricanes' toughest opponent right now is the franchise's own history - its greatest foe of all.
Enough though! When you tire of the transtasman fare, you may wish to follow Horace Greeley's advice and go west. There you'll find the Bulls attempting to do what only the Crusaders and Reds have done since the advent of Super rugby conference play and mount a playoff charge from so far down the table.
That the Bulls have five losses already counts against the probability of success. However, it must be acknowledged they return to the world's scariest stadium for four of their last six games. And you don't have to be a great historian to know what Loftus Versfeld means to them.
The Force must fancy their chances on this one, but they have the opposite problem to the Hurricanes here, namely, no history of a late-season fade. Their fade has heretofore begun in round one.
Late-season fades are something of a Highlanders specialty though. Remember 2011? Remember 2012? Not even a fully fit Brad Thorn could deadlift the sheer weight of history off the shoulders of the southerners this weekend in Durban. The Sharks seem destined for another finals appearance. Maybe, even, another grand final appearance.
Then again, we all know the history there, don't we?
Too many Chiefs
If Sir Graham Henry coined the term "rotation" for a selection policy, then the Chiefs coaches have taken it to another level. We all know Super rugby is a 23-man game, but usually you can pick a starting 15 from every squad. The Chiefs on the other hand, through injury and performance, have made a minimum five changes to the starting line-up for every match this season. The most (eight) came after the loss to the Force on the way to South Africa. So, what is the Chiefs' optimum "starting XV"?
Style over substance
Don't get me wrong, I love the Honey Badger as much as the next guy, but for all Nick Cummins' linguistic deeds and hat-trick heroics, even he would be forced to concede that the real star at the Force is their captain, Matt Hodgson. Surely the six-test former Wallaby is up for international selection again this year; he leads all tacklers, has won more turnovers than any other backrow player, is a top-10 ball carrier in his position and drops F-bombs in the post-match. Allrounder of the year!
Manscaping issues
The Crusaders sure know how to set themselves a challenge. Not content with their customary slow start to the season, the team has decided on a "mini-team" beard challenge. The rules are simple: grow some face furniture, engage in some creative topiary, and then shave it all off when someone from your mini team scores a try. Needless to say, the Crusaders went tryless again last weekend. Ryan Crotty's beard may soon not be the only one with a Twitter account.