Team has second straight loss under new coach and no `easy wins' in next four fixtures.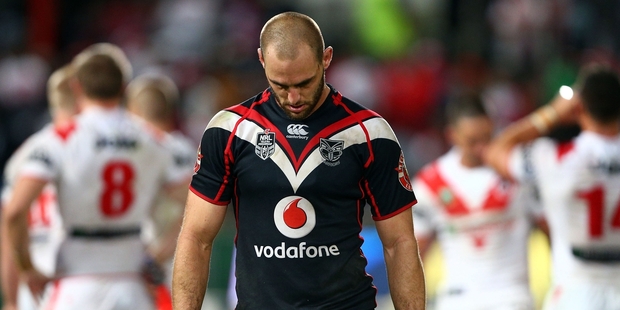 It's starting to look like a poisoned chalice for interim Warriors coach Andrew McFadden following the side's second straight loss since he took over from Matt Elliott.
Saturday's 20-10 defeat to the Dragons left his side in 15th position with just two wins from seven games and looking at the next month of fixtures, it's certainly not going to get any easier.
The Warriors head back across the Tasman to face the Storm at AAMI Stadium in the traditional Anzac clash on Friday night, a ground where they have won just four times in 15 occasions.
They have one of the best win percentages of any club (45 per cent) against the two-time premiers but since the first Anzac clash in 2009, a 14-14 draw, the Warriors' only win in the fixture came in 2011. They repeated the dose later the same year by beating the Storm in Melbourne to book a spot in their second ever grand final but since then they've won just one of the last four encounters.
Following the Anzac test break, they then host the three-win Raiders at the away-side friendly Eden Park before facing the top-ranked Bulldogs, in Hamilton, and the third-placed Titans. In other words, none of the next four matches exactly say 'easy win' but when you sit perilously close to the bottom of the table not many games do.
After Saturday's defeat, their second to the Dragons this year, McFadden said his side lacked confidence and execution. Those two things deserted the side a week earlier when they failed to close out a win against the table-topping Bulldogs.
"There was lots of effort but we lack that quality execution and didn't put enough pressure on the opposition," McFadden said. 'We lack a bit of confidence, and when we show some conviction we trouble teams. But we're inconsistent with that.
"Our kicking was pretty ordinary and that is what hurt us."
One positive for the Warriors was the performance of English import Sam Tomkins who had his best game for the club including a superb solo effort to score early in the second half.
Skipper Simon Mannering said the rest of the team needed to give Tomkins more support, with the Englishman comfortably their best performer.
"It's hard for him with the team not playing great," Mannering said.
"But he's doing some special things and once we start getting into a rhythm, he'll get even better."