On the track he is tough; off it Chris Rattue found him charming. So, is Nicki Pedersen a contradiction?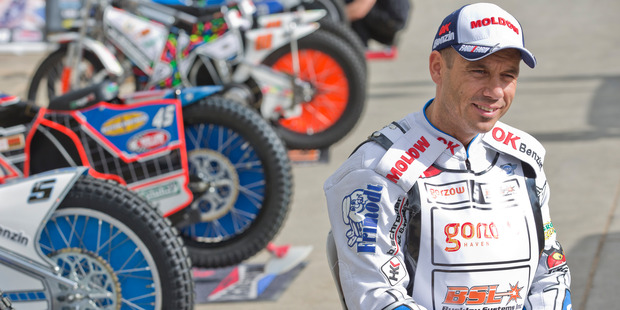 Nicki Pedersen excites reactions - especially among opponents - like few others in sport. He is the most decorated rider in the 15-man world GP series which roars off again at Western Springs tomorrow night. He is also the most controversial and criticised.
The three-time world champion from Denmark has a fierce reputation - of being a wild rider - that he can't shake. Detractors slam his tactics. The internet is sprinkled with his crashes and arguments with other riders. Even avowed fans, like Kiwi speedway legend Barry Briggs, can't shy away from the rough stuff.
Briggs says: "Nicki wants to win more than anyone else. He's not a natural talent, but without him the GP just wouldn't be as good. He does it his way... knocks people all over the place." In the same breath, the 79-year-old Briggs describes some Pedersen moves as "diabolical".
Talk to the man himself and you actually get a corresponding picture, delivered through a different lens.
There is also a certain charm - it's easy to warm to Pedersen. He says people expect trouble on meeting him and are pleasantly surprised. He's right in this case.
But his charms were well and truly lost on young British world champion Tai Woffinden in the Herald two months ago. Woffinden described Pedersen as an "idiot" causing unnecessary danger.
"He'll dive through gaps that aren't there and run you straight to the fence," said Woffinden.
Pedersen is quick to reply as we chat at his central Auckland hotel.
"He should keep his mouth shut - he's not better than anyone else," says the 37-year-old. "He broke my hand twice last year. He's just had three crashes in the same meeting. I have never done anything bad to him - we could all complain about each other.
"I've got family too and want to come home safe. But I'm definitely going to race to the limit."
Testimonials for Pedersen aren't great. One rider told the Herald: "He's the biggest dickhead of a rider ever. He shows no regard for anyone's health and safety. A few riders have got a fairly large target on Nicki."
It's a field day, analysing Pedersen and guessing at the combo of nature and nurture that produced the speedway hero/villain. He was brought up in the countryside, on the island of Funen in central Denmark. Along with older brother Ronni - whose own tilt at speedway fame tailed off - Pedersen graduated from motocross. Ronni excelled, leaving Nicki with silver on good days.
"I was shit, proper shit... my brother was a huge talent," he says.
Pedersen's car racing father believed Ronni had a big future but told Nicki he wasn't good enough to earn a living from speedway. His parents thus insisted Nicki complete a four-year machine engineering apprenticeship before racing in the English leagues. On the day he got his certificate, Pedersen booked his passage to England. The waiting over, a remarkable career ensued, including the 2003, 2007 and 2008 world titles. A Danish sporting legend was made, although he struggles for positive recognition away from home.
Pedersen revels in operating on his own terms. Even Ronni - now in the family's car dealership - got the message to back off after offering advice.
"Ronni couldn't do the travel and fell out with lots of people. He wasn't stable or consistent," says Nicki Pedersen. "I learnt off my brother's mistakes ... and that thing inside, to show my dad I could make it in this business."
Team Pedersen - five fulltime and five others - is the biggest in the game, he says, costing maybe half a million euros a year to run.
"I am a poor loser including in business," says Pedersen. "I didn't need anyone - I built up my strength myself. No matter how far I've been down, I've always been able to lift myself up. I've been very, very good and very, very bad. I'm not frightened of anything."
The lone-wolf mentality took hold early. Pedersen initially regarded himself as the only challenger to the older guard and became world champion aged 26. The applause comes with strong provisos, but Pedersen has "absolutely no regrets". The closest thing to a guilty plea - and it isn't all that close - comes when we talk about his blatant hit on Thomas Jonasson, in the Swedish Grand Prix in 2012.
"That was my fault - it was a semifinal and I had to do it. I was in the wrong place at the wrong time, but I don't have a problem with it," he says. "I still compete at 110 per cent, going for the gap that isn't there. Otherwise you never find the gap. That's why I am three-times world champion. If I only did stupid things, I would be injured all over the place."
To re-ignite his bid for world titles, Pedersen once tried a Mr Nice Guy facade which fought a doomed existence for half a season.
"It didn't work. It was two-faced and I'm a straight person. I'm better with the knife on the throat," he says.
"If I have a problem with you, I come straight up to you. I say exactly how I feel and that gives me the drive for the next race. It helps me relax instead of building things up so they explode in the wrong place.
"The arguments make me laugh. I'm only 168cm high. I'm always looking up. What's wrong with you guys? Why aren't you giving me anything back?"
Pedersen is hero and villain, a study of strengths that can be weaknesses and vice versa. Perspectives determine the verdict. We are all two sides of the same coin... the gap that isn't there.