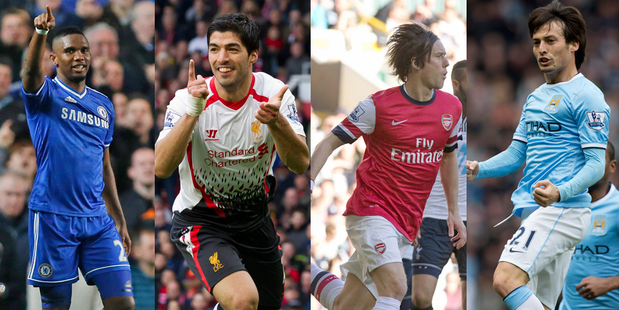 Following a Chelsea defeat and wins for Liverpool, Arsenal and Manchester City over the weekend - the race for the English Premier League is wide open yet again. Cameron McMillan looks at the remaining fixtures of the top four sides and which team has the best chance to lift the silverware at season's end.
Chelsea - 66 points
Played 30 Won 20 Drawn 6 Lost 4
Goal difference - 33
Titles - 4
Last title - 2010
Eight games remaining (Four home, four away)
Fixtures against top five: Two
Chelsea would love to bounce back from Sunday's shock 1-0 defeat to Aston Villa as fast as possible but first up they have Champions League duties on Wednesday, the second leg of their round of 16 match against Galatasaray. Next weekend the Blues have a crucial encounter against Arsenal before a relatively easy run against Crystal Palace (17th), Stoke (11th) and Sunderland (18th) where nine points is a must.
They then visit Anfield in one of the most anticipated fixtures of the season, whoever wins may very well be lifting the trophy on May 12th. Chelsea then end the season by hosting Norwich (15th) before a visit to Cardiff (19th) on the final day.
Verdict: They face four of the bottom six teams in their final eight games which is one of the easier schedules of the top four. Whether they can retain top spot will be even clearer following this week's Champions League fixture and Sunday's home clash with Arsenal. If they extend their European campaign it could well hurt their league chances as they'll be the only English team still travelling midweek.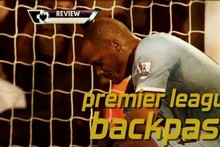 Liverpool - 62 points
Played 29 Won 19 Drawn 5 Lost 5
Goal difference - 41
Titles - 18
Last title - 1990
Nine games remaining (five home, four away)
Fixtures against top five: Three
The hottest team in the league? Hard to argue with 18 goals from their last five games - all victories. The only side in the Premier League who haven't suffered a defeat in 2014, Liverpool head to second to bottom Cardiff next week before hosting Sunderland and Tottenham to end the month. The middle of April might not just decide Liverpool's season - but also the title. They host Manchester City on April 14 before Chelsea visit Anfield two weeks later. Two home fixtures against the two biggest contenders is a massive advantage for Liverpool - a side who has lost just once at home this season. They then end the season by playing at 17th placed Crystal Palace before a home finish against Newcastle (eighth).
Verdict: No Champions League or Europa League football makes it a simpler task for Liverpool - just concentrate on the league. Six points from home games against Chelsea and City and the title should be theirs.
Arsenal - 62 points
Played 29 Won 19 Drawn 5 Lost 5
Goal difference - 25
Titles - 13
Last title - 2004
Nine games remaining (five home, four away)
Fixtures against top five: 2
It's from one London rivalry to a next for the Gunners who after beating fifth-placed Tottenham today, head to Stamford Bridge on Sunday to face Chelsea. If Arsenal have any hopes of a title they must take three points from the league leaders. After hosting 14th placed Swansea, Manchester City then visit Arsenal on Sunday March 30. Another must-win for the Gunners. They then head to Goodison Park to face Everton - certainly a banana skin potential game. After that fixture it is a pretty easy end to the season for Arsenal after a FA Cup semifinal against Wigan. They end the competition with a five-game run against West Ham (12th), Hull (13th), Newcastle (ninth), West Brom (16th) and Norwich (15th).
Verdict: They must at least take a point from Chelsea on Sunday but a win would really help their cause. A home fixture against City, four days after they play their Manchester rivals, on the other hand is a must win. They should pick up 15 points from their final five games but Newcastle and West Ham won't be easy-beats depending on which versions of those two clubs turn up to the Emirates.
Manchester City - 60 points
Played 27 Won 19 Drawn 3 Lost 5
Goal difference - 44
Titles - 3
Last title - 2012
11 games remaining (six home, five away)
Fixtures against top five: 2
Everything is in Manchester City's favour. They have games in hand and a superior goal difference but a recent 1-0 loss to Chelsea and a 0-0 draw with Norwich proves they are vulnerable.
Rivals Manchester United may be out of the running in seventh place but they could still play a part in deciding who will take their trophy as they host City next Wednesday. Four days after that City head to Arsenal before a visit to Liverpool two weeks later. Away fixtures to Manchester United, Arsenal and Liverpool...nine points is a very big ask there. After that it's another comfortable looking run to the end with the exception of sixth placed Everton who again is an away game for City. They end the season by hosting Aston Villa (10th) and West Ham (12th).
Verdict: Four of their five remaining away games at Old Trafford, Emirates, Anfield, Goodison Park are certainly big challenges (well Old Trafford might not be anymore but a derby is a derby) but if they show the form they have for most of the season this side could very possibly leave all four stadiums with 12 points. Those games will decide the title.