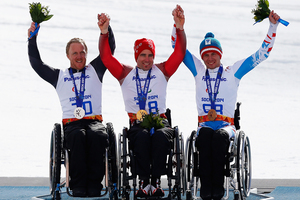 Corey Peters was ''pretty blown away" after winning a Paralympic silver medal in Sochi, Russia yesterday.
The New Plymouth skier, competing in his favoured giant slalom sitting discipline, led the field after the first of two runs, but could not hang onto a .53 advantage over Swiss skier Christoph Kunz and had to settle for second.
Kunz won in 2min 32.73s, with Peters, after managing the sixth best time on the second run, finishing on 2:33.20, while Austrian Roman Rabl won bronze in 2:33.31.
It was New Zealand's 28th Paralympic medal at their 10th Games and sixth silver.
The previous day New Zealand had managed three fourth place finishes - to Peters, standing skier Adam Hall and snowboarder Carl Murphy. Peters was the last New Zealander in action in Sochi on Saturday night and determined to make the most of it.
''To be at my first Paralympics and come away with a podium, we talked about leaving the best till last so I'm really stoked with my achievement," he said.
Peters, paralysed in a motocross accident four years ago, has been skiing competitively for just two years.
He admitted there was a pile of pressure on, waiting for the second run.
''We were pretty close, all within a second so it was pretty nerve wracking. I knew the course was getting rougher and rougher.
''But the giant slalom is the event I've had most success with this season. It's definitely my strongest event and I was confident coming in, knowing I can ski as fast as these guys."
The silver medal - the sixth by a New Zealander and first since Mathew Butson in the downhill at Nagano, Japan in 1998 -- was ''the icing on the cake" on what Peters called ''phenomenal, such a cool experience".