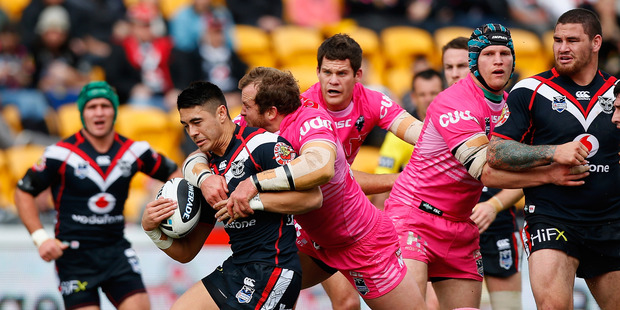 As is typical at this time of year, the chatter in the lead-up to the 2014 NRL season has been dominated by tough talking from the clubs.
The Warriors are confident English league star Sam Tomkins will prove the goods; the Roosters are picking Sonny Bill Williams will produce a big season in his final year in the NRL; the star-studded Rabbitohs are determined to finally overcome a 42-year title hoodoo; and the Eels are confident a new coach will bring a change in fortune.
But the toughest talk has been coming out of the NRL head office.
Last week the NRL unveiled some hardline new measures aimed at deterring teams from jeopardising player welfare and allowing concussed players to return to action. Among the possible sanctions that could be imposed if teams fail to comply with concussion guidelines are the loss of competition points, a substantial fine, and the suspension of registration for club personnel.
On the surface, it is a landmark move by league bosses, who appear to be taking the dangers of concussion extremely seriously. But their history does not back that up.
This is the third time the NRL have attempted to crack down on teams that don't follow the recommended guidelines around head injuries.
In 2011 official protocols on head-trauma incidents were included in the game's laws, with clubs warned they would be investigated and face significant fines if they allowed concussed players to return to the field of play.
Then in 2013 they amended the rules, firming up the protocols around the pitch-side assessment of head injuries so trainers, club doctors and referees were left in no doubt as to the appropriate course of action in dealing with concussion.
Yet alarming incidents still persisted. One is former Knights forward Richie Fa'aoso stumbling and hitting the turf on no less than five occasions after coming off second best in a tackle against the Sea Eagles.
Even when presented with video evidence of a trainer shoving smelling salts under a player's nose, the NRL failed to act. In fact, for all the lip service competition bosses have paid to concussion, there has not been a single public reprimand of a club, doctor or trainer.
Given the NRL has never taken action against clubs for flaunting the rules, it seems curious to beef up their legislation when they are not using the full extent of their punitive powers to begin with.
Having laws in place does not constitute action. To prove they take the issue seriously, the NRL need to show a willingness to invoke their powers and penalise clubs that take an irresponsible approach to managing head injuries.