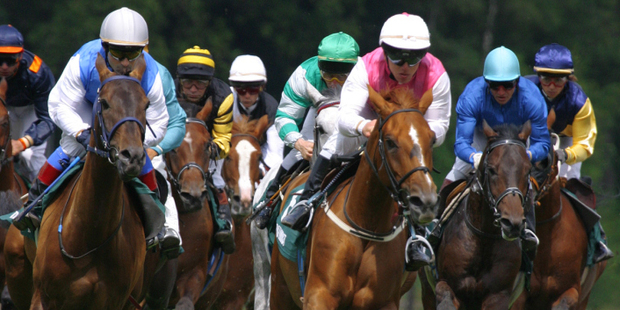 Terry Henderson has lived the life other racehorse owners dream of.
He has won the Melbourne Cup, New Zealand and Auckland Cups, the VRC Derby and regularly has horses racing at Royal Ascot, Chantilly or Dubai.
So when he says Barry Purdon is the best trainer he has ever dealt with, those words are as precious as any of Purdon's group one wins.
Henderson shares in the ownership of Maxim (first) and Sky Major, who Purdon trained to quinella the A$200,000 Victoria Derby at Melton on Saturday night.
The pair led and trailed, but not in the order expected after Sky Major pushed out of the trail early to take the lead off his stablemate, and easily beat their Australian rivals with a sub 55-second last 800m.
It was the third time Maxim and Sky Major had quinellaed a group one race and continues a renaissance in Purdon's career after he compiled ownership groups five years ago to buy high-quality yearlings.
As well as Saturday's Derby stars he has also bought group one winner Cheer The Lady and group two winner Precious Rose.
"It was amazing what Barry did back then, getting owners together and telling them what he wanted to achieve," said Henderson. "And he went out and did it. I think the horses he has bought for what is mainly the same bunch of owners have won eight group one races since then."
Henderson is the principal of OTI Thoroughbreds in Australia but has also raced champions Doriemus and Manighar, as well as pacing heroes Chokin and Holmes D G.
A measured man who sees racing as a beloved business, rather than a hobby, Henderson's comments about Purdon are high praise.
"Barry is as good a trainer as I have dealt with, and I am lucky enough to have horses with most of the great Australian trainers and some of the top guys in Europe.
"He is a great communicator and, of course, a wonderful horseman.
"And he is good at identifying talent at an early age, which means he can advise owners about what is best for a horse.
"I have said for a long time, if he wanted to train gallopers full time I have no doubt he would end up one of the best trainers there, too.
"So as much as it is rare to quinella any Derby, I was just as thrilled for Barry as I was for us on Saturday."
Maxim and Sky Major will now return to Auckland for the Woodlands Derby on March 7, which is shaping as potentially the pacing highlight of Auckland Cup Week.
Meanwhile, superstar Canterbury filly Venus Serena broke Adore Me's national three-year-old mile record with a 1:52.2 stunner at Ashburton on Saturday.
And the Mark Purdon-trained Follow The Stars remained unbeaten with a 1:53.8 mile in the Sapling Stakes suggesting this season's juvenile crop is going to set their share of records.