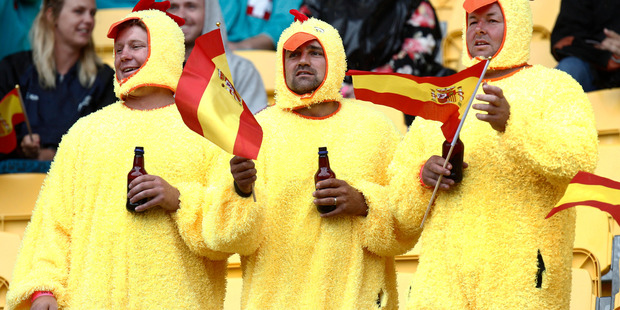 Designated drinking areas could be on the cards for Wellington's annual Sevens tournament, with police saying more needs to be done to reduce drunken behaviour.
The two-day tournament, which culminated in New Zealand's victory over South Africa last night, resulted in 20 arrests and about 300 evictions from the stadium.
While police and event organisers acknowledged the event had been relatively well-run, Inspector John Spence - police operation commander for the event - said more needed to be done to reduce the number of drunk people in the stadium.
"Being an on-licence, having an intoxicated person on the premises is a breach of the [Liquor] act."
Police would be meeting with Westpac Stadium management and tournament organisers to discuss options for next year's tournament, including having a special liquor licence for the event, he said.
"We can look at putting on, in conjunction with the stadium people, rail enclosures [for bars]. There's a number of options."
Westpac Stadium chief executive Shane Harmon said any suggestions from police were welcome.
"They've been very cooperative and collaborative throughout this whole process. We met with the police over the two days, every two hours during the event. We would review the situation at that point, we would discuss things like moving from four drinks to two drinks [bought at one time] and what time to close bars."
Shifting the focus away from the drinking culture at the Wellington Sevens, and more towards the on-field rugby competition through a change in marketing was also important, Mr Harmon said.
Wellington Sevens general manager Marty Donoghue said alcohol sales at the event had been trending downwards in the last five years.
"We removed and evicted over 300 people over the weekend. That tells you we were actively managing and evicting people who are intoxicated."
While there was always room for improvement around alcohol management, Mr Donoghue believed police comments around of high intoxication in the stadium were wrong.
"We can categorically say this year's sevens, through the alcohol management processes and policies we had, was far better than the others."
"The police have not been in the stadium, as they were this year, in previous years. They've got nothing to benchmark this off," he said.
Wellington Free Ambulance spokesman Daniel Paul said the number of patients treated by staff this year was far lower than last year. Eighty five people required treatment over the two days, with only a handful of the incidents being alcohol-related.
Last year, staff were far busier, with 72 people requiring treatment on the second day alone, Mr Paul said.
More than 30,000 fans attended the second day of this year's tournament, slightly more than the first day's crowd of about 28,000.
Wellington City Council spokesman Richard MacLean said the council would meet with police in due time to review this year's tournament.
- APNZ