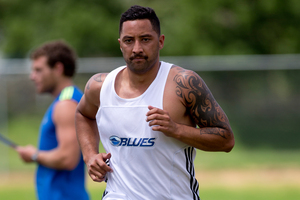 Super 15 trial matches are experimental treasure, a framework and a testing ground for the season ahead where the Blues can push their star recruit Benji Marshall into the rugby furnace.
Next Saturday, he and the Blues will run out for their first trial match against the Hurricanes in Masterton before further hit-outs with the Waratahs and Chiefs.
If the Blues are animated about Marshall's calibre, Sydney is frothing and Foxsport is already billing the February 7 trial hit-out against the Waratahs in Sydney as some sort of Benji-Israel Folau gladiatorial contest.
Marshall wants to play five-eighths and direct play just as he did in his lengthy league career with Balmain and it seems the Blues will use their pre-season matches to assess that concept.
They are also working through the final stages of paperwork needed to fill the locking vacancy left by the season-ending injury to Culum Retallick.
It seems Tom Murday will be promoted to the full squad, with Hayden Triggs, who has played lock for several New Zealand teams, selected as backup in the squad from his current base in Japan.
Former All Black Jerome Kaino is finishing his stint there too and is expected to link up with the Blues in several weeks.
Some of the newer and less involved All Blacks on the last trip to Europe - Francis Saili, Frank Halai, Charles Piutau and Charlie Faumuina - have been at Blues trainings while Keven Mealamu, Tony Woodcock, Steven Luatua and Ma'a Nonu are expected to link up next week.
Meanwhile, Operation Benji has been simmering strongly as he absorbs the nuances of rugby and the collective coaching wisdom from John Kirwan, Graham Henry, Grant Doorey and Mick Byrne.
Marshall's instincts are to play close to the action and the Blues coaching staff have accepted his yen to direct the backline. They will ramp that up to the next level with more trial match involvement at five eighths.
That means Marshall and Baden Kerr can share most of the five-eighths work in the pre-season games while Marshall will probably also get some time at fullback.
The staff felt Marshall's re-integration to rugby would develop best if he concentrated on one role so most of his skills and game management work has been on directing the backline as first receiver.
This year's Super 15 series begins on February 15 with two games in South Africa before a week later Australian and New Zealand teams begin their work with the Blues travelling to Dunedin to play the Highlanders.
About this time last year, inquisitive noises about the Blues and the optimistic clamour about the experience-laden Highlanders were starting to move to the next level.
Neither made the playoffs although the Blues showed more spine and finished with three more wins than the ineffective Highlanders.