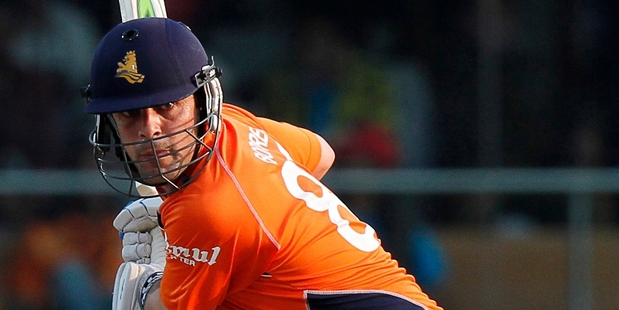 It was a homecoming of sorts for Netherlands captain Peter Borren this week at the International Cricket Council's World Cup qualifying tournament.
The last time Borren played in New Zealand at representative level he was wearing the black of the home team at the under-19 World Cup in 2002 alongside a captain called Ross Taylor and an all-rounder called Jesse Ryder. Team-mates Neil Broom, Michael Bates and Rob Nicol also went on to play internationally.
The then-Cantabrian all-rounder took the most wickets (eight, including three for 34 against South Africa) and had the best economy rate among the Kiwi bowlers. After that? He packed his bag, dusted off his Dutch passport, went on his OE, settled in Amsterdam and never returned. In short: he went orange.
Now 30, Borren is part of a Dutch team contesting two World Cup spots over the next three weeks against Nepal, Uganda, United Arab Emirates, Scotland, Kenya, Namibia, Canada, Papua New Guinea and Hong Kong.
Borren says he's "confident we should qualify". The 10 ICC member nations, Ireland and Afghanistan already have.
His passport could be excused for looking dog-eared, given he's played international cricket in South Africa, Kenya, the West Indies, Canada, Ireland, Scotland, India and the UAE since debuting seven-and-a-half years ago.
"I really wasn't that good," Borren says."So I had a word to [former New Zealand coach] David Trist who had done a lot of coaching in Holland. Next thing I went on my OE [in 2002] and got set up with the VRA Amsterdam club."
Cricket is a minor sport in the Netherlands but Borren was one of the first players to be awarded a central contract in January 2010 as the game became more professional; it coincided with his appointment as captain.
That period was part of a key phase in the development of the Dutch game. Seven months earlier, England rested a number of key players for the World T20 opener at Lord's and were punished by a Netherlands victory off the last ball. Borren played a key role with 30 runs off 25 balls to ensure they stayed ahead of the Duckworth-Lewis method in the drizzle.
"That was an awesome night for Dutch cricket in the opening game in front of a packed house; great exposure. It led to us getting a place for three years in the England one-day competition. Unfortunately that won't be happening this year but we need the ECB [the England and Wales cricket board] to help out, much like the Pacific Islands needs New Zealand's assistance in rugby. We can't sustain our performances if we're only meeting top teams every few years at world tournaments."
Borren says they're grateful to the ICC for funding most of their activities but says it's disappointing they can't boost their chances at this tournament by getting access to top Dutch players like Ryan ten Doeschate and Tom Cooper - who are engaged in T20 contracts with the Otago Volts and Melbourne Renegades respectively.
The Netherlands' next major fixture is the World T20 during March in Bangladesh. They are one of eight nations competing for two spots in the main draw.