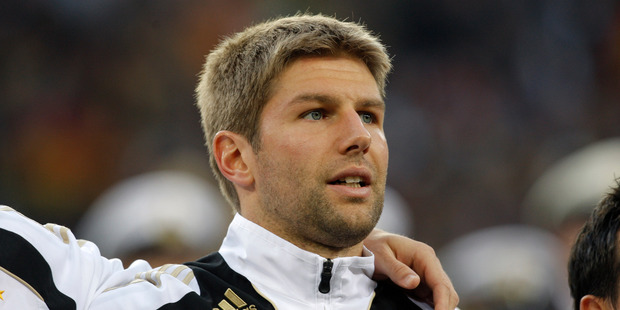 Encouraged by others who have come out as gay, retired German soccer star Thomas Hitzlsperger is hoping going public will help make it easier for other sporting stars to do the same.
Homosexuality is seen as a taboo in some sports. Billie Jean King and Martina Navratilova, both openly gay, are two of the greatest tennis players in history. But big-time professional soccer and major sports in the United States, are quite a different story.
"There is a long way to go because we fear a reaction and we don't know what will happen. I can't imagine playing football and doing this at the same time," Hitzlsperger said in an interview with BBC Radio 4 yesterday.
Hitzlsperger, no longer active but still regarded as the biggest name in soccer to say he is gay, spent years playing professionally in England, Germany and Italy, and represented Germany at the 2006 World Cup.
His decision to go public was hailed overwhelmingly as a positive step in the German media as well as in England, reflecting the way attitudes have changed.
British tabloid the Sun labelled him a "Winner" in a side-by-side cover photo with Manchester United defender Chris Smalling, who was called the "Loser" for wearing an outfit resembling a suicide bomber for a costume party.
In Germany, Hitzlsperger has been commended for his courage. The mass circulation daily Bild led with "Respect!" on its front page, a day after Hitzlsperger made his announcement in an interview with another German newspaper, Die Zeit.
"Hopefully, by talking about it, it encourages some others, because they see they can still be professional football players, they can play at the highest level, and be gay," Hitzlsperger said in a video on his website. "It's not a contradiction, as I've proved."
Anti-gay slurs and jokes on the sports field have been widely accepted for years as part of playing hard, so much so that in 1999 former Liverpool striker Robbie Fowler made lewd anti-gay gestures during a game toward Graeme Le Saux, who was playing for Chelsea.
Le Saux, who is straight, was labelled a homosexual by many simply because he used to read the left-leaning Guardian newspaper.
After Hitzlsperger's announcement, Fowler took to Twitter to express regret and apologise for his actions of nearly 15 years ago.
"Getting a bit of stick for something that happened when I was a kid, naive and immature ... I've apologised to @graemelesaux14, he accepted," wrote Fowler, who has retired from football and become a television commentator.
"Obviously embarrassed looking back, but sadly cannot change what happened, you learn from mistakes growing up, and that I have."
Former NBA player Jason Collins came out last year and was regarded as the first active openly gay player in one of the big American sports. Like Hitzlsperger's, Collins' announcement was met mainly with praise, rather than abuse.
Dutchman Arjen Robben, who helped lead the Netherlands to the World Cup final in 2010, downplayed stereotypes that athletes are scared to come out because they fear reprisals from teammates in the locker room.
"He's gay, and?" Robben said at a Bayern Munich practice session in Doha, Qatar. "I think it's quite normal and natural. I can also say here, I'm heterosexual. I don't see a problem."
Fifa, the governing body of international soccer, acknowledged there is still work to be done in the game.
"Unfortunately, prejudices still exist within football," Fifa said in a statement. "Fifa is working hard to tackle these and hopes Thomas's statements will encourage greater respect and understanding in football and beyond."
Last February, American soccer player Robbie Rogers declared he was gay as he announced his retirement. Rogers, now 26, has returned to action with the Los Angeles Galaxy.
Former English player Justin Fashanu, who played for Norwich and Nottingham Forest, was the first soccer star to say openly that he was gay, in 1990. He committed suicide eight years later at age 37.
Swedish defender Anton Hysen came out in 2011.
- AP