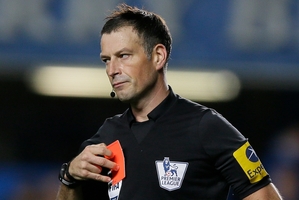 News that English Premier League football referee Mark Clattenburg was accused of verbally abusing Southampton star Adam Lallana is surprising - surprising that it happens so little.
There are any number of incidents every week where football referees - not just those in the Premier League - are surrounded and abused by players seeking a penalty or free kick or disagreeing with a ruling. It is unedifying, irritating and a waste of time for the spectators. Who goes to a game or watches one on TV to see dissent; a bunch of show ponies stamping their feet at a referee? Drama and controversy is one thing; baiting and bullying a man alone in front of 40,000 fans is distasteful.
Referees, by their own rules and code of conduct, are prevented from answering back.
The accepted norm is to yellow-card or send the player off for dissent. However, refs are rightly hesitant to alter the course - and probably the outcome - of a match like that, increasing the pressure on themselves for different reasons.
Players, of course, use the tactic to influence the referee. Even if he does not change his mind regarding the original incident, the dissent can play on that mind. The make-up goal or make-up penalty is far from rare.
It puts the referee in the same position as the poker-playing guest at the house of Oscar Madison, the rumpled slob of a sportswriter in Neil Simon's old play, The Odd Couple. During the game, Oscar asks if anyone wants any food. His mate Murray asks what he's got.
"I got, uh, brown sandwiches and, uh, green sandwiches. Which one do you want?"
Murray: "What's the green?"
Oscar: "It's either very new cheese or very old meat."
Murray: "I'll take the brown."
That's what refs have to deal with when footballers round on them - the green or the brown; both unpalatable.
Lallana turned on Clattenburg after his cross hit the arm of an Everton defender and appeals for a penalty were turned down. Lallana's remonstrations were the usual blend of out-stretched arms, disbelief and invective. Clattenburg allegedly replied with an "insult"; he allegedly said: "You are very different now since you've played for England - you never used to be like this."
It's enough to make a grown man run crying to his mum. It called to mind the famous Monty Python insult: "Your mother was a hamster and your father smelled of elderberries." Poor lamb.
Clattenburg has a controversial style and is apparently well-known in the league for handing it back to gobby players. Good on him.
Football has allowed itself to be overwhelmed by diving cheats seeking a penalty, by the feigned injury to gain a free kick; by the use of deceit to gain an advantage - any advantage - over the referee and the opponents. The apologists call it "professional" behaviour. It's just cheating.
It would be hard for anyone to keep their patience when taken to task by shrieking players who pick themselves up after a dive, trying to con the referee into a penalty.
Clattenburg was the bloke accused by Chelsea player John Obi Mikel of calling him a monkey during a 3-2 home defeat by Manchester United in 2012.
The Football Association and the Metropolitan Police launched an investigation but dropped the matter, clearing Clattenburg. Mikel was later fined 60,000 (and banned for three matches) for threatening Clattenburg after that match.
In another refereeing incident last weekend, whistler Howard Webb was pilloried for not awarding a penalty when Tottenham Hotspur's goalkeeper Hugo Lloris clattered into Manchester United's Ashley Young in what, admittedly, seemed a clear penalty - particularly after the endless replays to which we all have access and the referee doesn't.
But just a cotton-picking minute. Ashley Young? Isn't he the Premier League player who more than any other has been fingered for diving more times than Jacques Cousteau? Honestly, if you laid all the Ashley Young dives from end to end, you'd have a Tribute To The Fallen. He could star in the new James Bond movie, Dive Another Day, or Dive Hard 12. He takes a box of butterflies to training so he can practise falling over when one flies past him...
Okay, enough with the Ashley Young jokes. You get the picture. A ref can be forgiven for hesitating when he's involved.
However, football administrators - and the referees - have only themselves to blame; they have let abuse and diving grow like untended weeds. Managers have compounded the error, finding ways to avoid criticising their players. David Moyes of United has come out with all manner of verbal contortions regarding Young.
Chelsea's Jose Mourinho descended into sophistry last weekend when his midfielder Oscar stuck out a leg and acted like the Southampton goalkeeper had tripped him, successfully gaining a penalty in a 3-0 victory.
"It was a moment of contradiction," Mourinho said later. "We are speaking about fractions of a second - where he thinks 'contact, penalty, red card' and there was certainly no contact. Oscar is a clean player who was waiting for the goalkeeper to come and smash him because that's what normally happens in those situations."
So, let's see. That's like doing a runner from a restaurant before the meal arrives.
The shame of this is that it is infecting other sports. Rugby now has rules so complex that refs have to continually blab away and there are a growing number of player-referee conversations. There is also a disturbing increase in the sight of players milking a penalty, miming a physical battering before (once the penalty is awarded) jumping to their feet and grinning at their comrades. I am sure I am not alone in wishing that some violent retribution finds its way to that player during the match.
Maybe in 2014, this sort of thing will wane. Don't hold your breath. Save that for when Ashley Young has the ball.