Tournament boss confirms push to get world No 1 in Auckland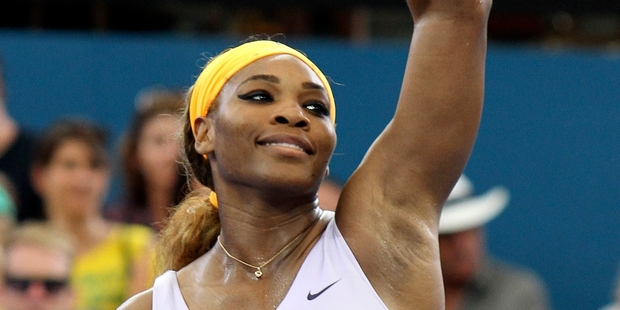 One Williams was a coup for the ASB Classic tennis tournament this year but organisers are hopeful of a Williams double-act for 2015.
World No1 Serena Williams will be the principal target for next year's ASB Classic and tournament director Karl Budge will also hope to secure Venus.
It might sound a fanciful proposition, given the status of the tournament on the WTA Tour - its US$250,000 ($302,000) prizemoney is near to the lowest on tour - but Budge said they weren't far off securing Serena for this year's event.
He had mentioned it to Venus this week, partly tongue-in-cheek, but will put it more seriously to the pair at the upcoming Australian Open.
"I think the response will be favourable," he said. "We weren't a million miles away from getting Serena this year. She was my No1 target this year.
"I know for a fact Serena sat in her hotel room with her agent and debated for some time where she was going to go in week one [this season]. One of the problems was she was defending champion at Brisbane."
There are myriad issues to overcome, not least of all money.
Budge has a limited budget to offer appearance fees to top players and a lot of that was pocketed by Venus Williams and Ana Ivanovic this year. Williams stands to take home close to US$100,000 if she wins in prizemoney and appearance fees - her contract offered good inducements to go deep into the tournament.
Another complicating factor is the ASB Classic is restricted to just one top 10 player, and it's difficult to predict how players will fare in the rankings this year.
Ivanovic has also been good value and been a crowd favourite and Budge would attempt to get her back next year if she wins today's final.
"If Ana wins, that might change things a little," Budge said. "We have to do the right thing by our champions and invest in them as well. Those are the considerations you always have to have.
"If Venus wins, maybe that's a reality and we could put a deal together for both of the Williams sisters. My revenue wouldn't stretch as far as having Ana and Serena.
"It's always a balancing act. There's always money for a good idea. We can probably afford to go out and get both of them [Williams sisters] if I know in March and figure out how to commercialise it. If it's done in September, you're left with what is in your budget at the start of the year." Budge admits he's "ambitious" and has aggressively chased Roger Federer and Rafael Nadal in the past for the Heineken Open. Federer remains his No1 target for the men's event.
He also has on his wish list for the women's tournament at some stage in the future players such as rising American Sloane Stephens, former world No1 Caroline Wozniacki and China's Li Na.
Serena Williams has dominated woman's tennis for much of the past decade, winning 57 singles titles, including 17 grand slam singles titles, and banked more than US$54 million in career prizemoney. She won 11 titles last year, including both the French and US Opens.
She typically plays the first week of the year, having played in Brisbane the past three years, and wouldn't normally consider a tournament of the ASB Classic's level if it was held earlier before a grand slam.
Venus Williams has talked enthusiastically about playing in Auckland and said she has felt "like a Kiwi" because of the support she has received at Stanley St. She also said earlier this week she wished she had played the ASB Classic sooner in her career and would try to lure Serena to Auckland next year.
- APNZ