Home team not impressed as spinning Seddon Park plays into the hands of tourists and sets off alarm bells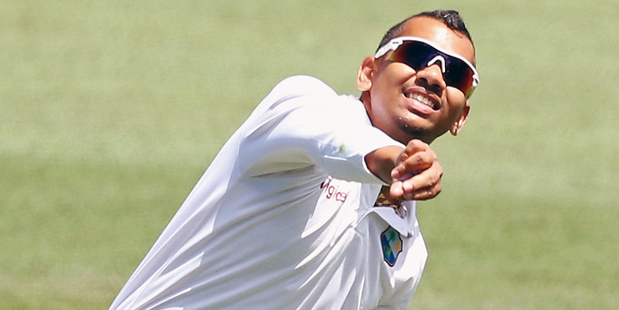 It's only two days in, but one team are delighted with the Seddon Park pitch, and one are far from it. No prizes for guessing who is grinning.
The last thing New Zealand wanted as they try to hold on to their series lead in the final test against the West Indies was to discover a pitch playing into the visitors' hands. Unimpressed? You bet.
New Zealand will start today at 156 for three, in pursuit of 367 and the last hour yesterday, in particular, will have set alarm bells ringing.
From marking out his runup, spinner Sunil Narine wheeled down 22 unbroken overs, regularly deceiving the batsmen and finding more turn in the pitch than the West Indies could have dreamed of.
Ross Taylor, well set on 56, and Brendon McCullum at times looked to be wearing blindfolds as they reached in vain for the ball as it spat off past the outside edge.
And remember, the West Indies will bowl last in this test.
"I've never really seen it spin like that (in Hamilton)," said Kane Williamson, who has played most of his domestic cricket at Seddon Park.
"But they're the cards we've been dealt and we need to turn up with a change of game plan as a batting unit to face a lot of spin on a wicket that's very much conducive to spin bowling."
The flip side came from West Indian veteran Shiv Chanderpaul, who hit his 29th test hundred yesterday, an unbeaten 122. Clearly, after the last two test pitches favoured seam bowling, he was surprised at what has been presented to the tourists.
"You could say that," Chander-paul said with a big smile.
"I wish we had wickets as good as this in the Caribbean."
Narine, with help from tidy left arm spinner Veerasammy Permaul, who was unlucky not to get at least one wicket, is hard to pick as it is. Give him a pitch with some bounce and turn and he's a real handful.
His test record is average, just 17 expensive wickets. Short form cricket is his specialty area, where batsmen must attack him. However, 14 of those 17 are against New Zealand.
"Sunil is a very good bowler, it doesn't matter the conditions he's playing in," Chanderpaul said.
"He's difficult to deal with when he gets it right."
For all that, New Zealand need to be assertive today, rather than try to simply hang on.
Williamson's strategy is to be aware of how Narine's stock delivery, the offspinner, looks as it leaves his hand. Then, by extension, if the delivery doesn't look right, expect a variation.
"You need a really sound game plan, have your scoring areas and stick to them, and know that the ball that goes the other way is going a long way and accept you'll miss it.
"I wish I could spin it both ways," he added ruefully.
Williamson got to 58, sharing a 95-run stand with Taylor, before falling lbw to Narine.
New Zealand's openers didn't prosper, captain Darren Sammy snapping up two smart catches and as the ball started to zap off the pitch late in the day, the signs were ominous.
"The challenge is different here, (we've) been thrown a curve ball," Williamson said.
Earlier Chanderpaul, with late hitting from Permaul and Tino Best, got the West Indies up to respectability, and eased his test average above 52 in his 153rd test.
He is a marvel of West Indian cricket. You only need to ponder the state their batting would be in without him to appreciate his value.
The stats
• Ross Taylor is just the third New Zealand batsman to score 400 runs in a three-test series. He'll start today at 418 runs. The others are Glenn Turner (403 v Australia, 1974) and Andrew Jones (513 v Sri Lanka, 1991)
• When he caught last man Tino Best yesterday, wicketkeeper BJ Watling became the seventh New Zealand gloveman to take five catches in a test innings.
• Shiv Chanderpaul's 122 not out was his 17th unbeaten test hundred, breaking the old mark of Sachin Tendulkar.