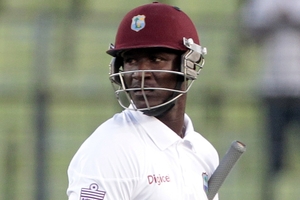 The West Indian skipper is good mates with suspended offspinner Shane Shillingford. Photo / AP
As no comments go, Darren Sammy produced a gold medal class performance at Seddon Park yesterday.
The West Indian skipper is good mates with suspended offspinner Shane Shillingford. It is clear the West Indies camp feel hard done by losing the Dominican after he failed International Cricket Council testing on the legitimacy of his bowling action.
There are plenty of other bowlers around the globe who are worthy of tough scrutiny but have survived for now. Yesterday, Sammy was sorely tempted to let rip.
His coach Ottis Gibson has said there are other bowlers with "similar if not worse actions" than Shillingford who have not had their collar felt by officials.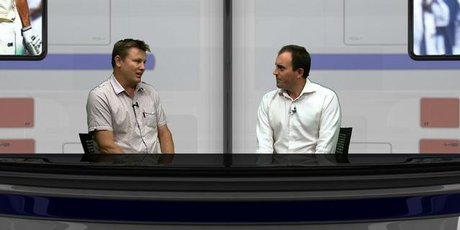 "I'd love to spill my guts out and say what I have to say. Wouldn't you love that," Sammy laughed.
"No matter what the situation there is a procedure in which things are done. I've always been one who's stuck by the rules.
"I don't want to find myself in any compromising situation. The board and coach and director of cricket at home are going to handle it and I'm backing them to handle it in the best possible way."
Shillingford is no stranger to trouble over his action and Sammy spoke of his "mental toughness".
"Shilly is a very close friend of mine and he's quite sad about it, and disappointed about the results. But that's life and sometimes you get curve balls thrown at you. You have to face it and come back stronger."
Shillingford's place will go to Trinidadian Sunil Narine, who has caused problems for New Zealand in the past, picking up 12 of his 15 test wickets in the two-test series in the Caribbean last year. He has been a particular challenge for batsmen in the shorter-form games.
"He is equally capable of doing the job for us," Sammy said. "Obviously test cricket has not been his best format but he's still young in international cricket and he poses a threat on any type of wicket he plays on." New Zealand skipper Brendon McCullum didn't want to enter the Shillingford debate, adding only that "I guess you always feel sorry for someone if they get rubbed out of a game regardless of the situation, so I felt for him, but it's not really for us to comment on".
McCullum has played against Narine, and with him, in the Indian Premier League. "We know he's a tough proposition as well."