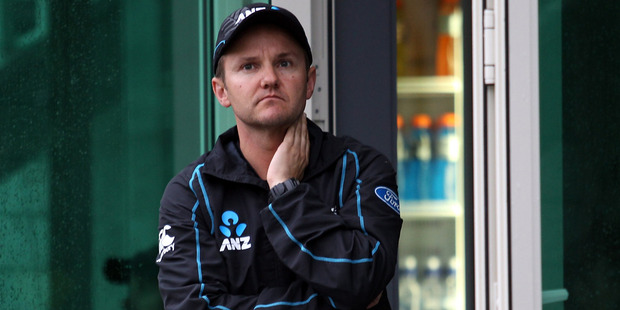 New Zealand coach Mike Hesson is adamant his team are on the right track; the problem is they're still struggling to reach the station.
Had the rain - which left New Zealand 79 for four, 33 runs short of a first test win in 10 matches -arrived half an hour later on Saturday it would, almost certainly, have been the first tick in the win column for the Hesson/Brendon McCullum axis.
Hesson insisted yesterday that New Zealand had played "almost the perfect test'' against the West Indies, using the term three times in a press conference.
"We're getting ourselves into position to win tests,'' he said.
"Twenty more minutes and we'd have had a test win.''
This year New Zealand have lost four and drawn six tests. Two should have been
won: against England at Eden Park and Lord's. Still, it's an improvement.
Remember, last year at one point New Zealand lost seven tests in an eight-match run.
"We weren't really consistent in the way we went about things,''
Hesson said. "I think the team's starting to turn a corner in terms of our method and how we play and, sure, we'd love the wins. But I think you've got to learn to draw first and put yourself in positions to win.''
Which is what New Zealand did at University Oval. No question they bossed the first three and a half days, only to be done in by a combination of four elements: A marvellous double century by Darren Bravo, and a defiant 80 from limping captain Darren Sammy; a New Zealand attack tiring under a substantial workload once the follow-on had been enforced; four dropped catches; and the untimely arrival of the - admittedly expected - rain.
Hesson confirmed yesterday the same 13 players will be in Wellington for the second test starting at the Basin Reserve on Wednesday.
Kane Williamson, who missed Dunedin as he recovered from a fractured left thumb, hit a century for Bay of Plenty in their Hawke Cup game against Counties on Saturday.
Assuming he got through bowling and fielding routines yesterday, Williamson should return at No 3, with Aaron Redmond to miss out.
Hesson said the bowling quartet of Tim Southee, Trent Boult, Neil Wagner and Ish Sodhi had "scrubbed up well'' yesterday, but that is the area that will need close attention in the leadup to the second test.
Hesson confirmed they will have a day off today.
New Zealand bowled for essentially eight successive sessions at Dunedin, over the two West Indian innings.
Southee bowled 45.1 overs, Wagner 43, Boult 53 and legspinner Sodhi 64.1. Should a change among the seamers be deemed necessary, Doug Bracewell will come in.
The West Indies will certainly be better for the first test run. McCullum suspects they may like the Basin Reserve pitch too.
He expected them to "come very hard at us'' and said the wicket might suit their seamers better than sportDunedin's did.