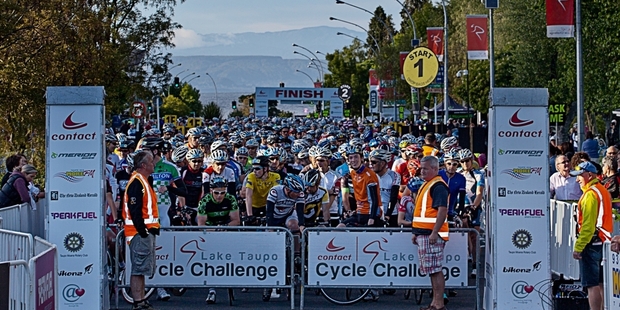 About 9000 cyclists will converge on the Central Plateau next weekend for the 37th annual Contact Lake Taupo Cycle Challenge.
The largest cycling event in New Zealand is a unifying goal for people from all walks of life.
The 15 event options ensure the challenge is achievable and enjoyable for everyone, from the very elite to the not-so-elite athletes.
The start line is a special place to experience. It is a mixture of nervous energy and excitement, and a sea of Lycra-clad cyclists ready to conquer the road ahead stretches as far as the eye can see.
Taking on the challenge of riding 160km around Lake Taupo on a normal bike is no walk in the park but a couple of the event's past participants are taking on this year's Bike Barn Solo in unique style.
World champion unicyclist Ken Looi will be taking on what he says "is likely to be my most difficult challenge yet".
The 35-year-old from Wellington has completed seven round-Taupo challenges in the past where he rode 36-inch (91cm) geared unicycles that are designed for long-distance riding.
This year, to make things just that bit harder, he'll be riding a standard-class 24-inch unicycle.
"The standard unicycle is much slower and relies on you pedalling very, very fast because the gear ratio is so low," he said.
And 13 years after completing two consecutive Taupo Cycle Challenge events on a home-built penny-farthing, 55-year-old Andy Fraser from New Plymouth is returning to do the 160km Bike Barn Solo in preparation for a trip around New Zealand on his penny-farthing next year.
"The biggest challenge is likely to be carrying all the food I'll need to sustain my energy levels on the day," said Fraser.
"[Penny-farthings] take a lot more energy to push along and it's a bit of a challenge up hills, but one of the advantages of riding a penny-farthing is that I tend to get treated with great respect from other riders and road users."
Both Looi and Fraser will start their 160km journey from Tongariro St in Taupo at 6am on Saturday, and both hope to be finished in time for the event's main prize-giving ceremony at 6pm.
Also heading into the unknown are Craig and Jenna Mangin. Not since 1995 has anyone taken on 320km of riding at the Taupo Cycle Challenge on a tandem bike.
But next Saturday, for only the second time in the event's 37-year history, the Masterton father-and-daughter combination will team up to take part in the two-lap Barfoot & Thompson Enduro bike race on their two-seater.
Craig and wife Sue started riding tandem bikes in 2006, and completed the 160km one-lap solo at Taupo in 2008 in a time of only 4hr 55min.
They were back again in 2010 and last year Craig teamed up with his daughter Jenna for the Bike Barn Solo, completing the lap in 4hr 40min.
Just to mix things up a bit, Craig completed the two-lap 320km Enduro event in 2009 as an individual rider and enjoyed it so much that he thought it would be a real challenge to do it on a tandem.
He has the full support of his wife and she's more than happy to hand over team duties to daughter Jenna, who's done a lot of road cycling and is up for another new challenge.
Tandem riding can be a challenge in itself and team captain Craig knows that communication will be a key factor in their success.
"Sometimes Jenna will be unable to see what is happening in front of us," said Craig. "So Jenna could be pushing hard while in the front I might be preparing to brake.
"I also need to communicate the terrain ahead and let Jenna know about corners approaching. And most of all, we'll need to encourage one another when those hills become mountains on the second lap."
Craig and Jenna are both members of the Masterton Cycling Club and participate in the weekly club nights along with club training rides.
Every year, the Contact Lake Taupo Cycle Challenge attracts hundreds of international entrants from all corners of the globe.
Adding to the excitement of this year's event, organisers have secured one of Australia's professional women's cycling teams to take part in the OPI Women's Road Race, a 100km elite race from Taupo to Turangi and back.
Leading the Aussie contingent from the Adelaide-based Specialized Securitor team will be Amy Bradley, who is the current Oceania Road Race champion. Bradley will be joined by teammates Cassie Dodd and Jenny Fay.
Bradley is looking forward to making her debut in the event. "I've heard that Lake Taupo is an amazingly beautiful spot to visit," she said.
"I know many who go each year to do the Ironman race there and they all recommend it. I've also heard from some Kiwi friends that the OPI Women's Road Race is a great event, so I can't wait to give it a go."
Last year's OPI Women's Road Race was won in record time by Te Awamutu's Rushlee Buchanan in 2hr 44min 50sec, with the top eight finishers split by only 1 second.
The Taupo challenge also boasts one of the largest prize money pools in New Zealand cycling, with both the Holden Men's Classic road race and Contact Huka XL mountain bike race adding to the flavour of the weekend.
Kay Brake, the event's director, said the challenge had a reputation as a must-do event on the sporting calendar for locals and tourists.
"On the international stage we're already recognised as a UCI Golden Bike Event, making us one of the six best recreational rides in the world."
Online entries close today, with late entries available at the event on Friday, November 29 and Saturday November 30.