After her best year, Marina Erakovic finds national body and funding agency can't help her get in shape.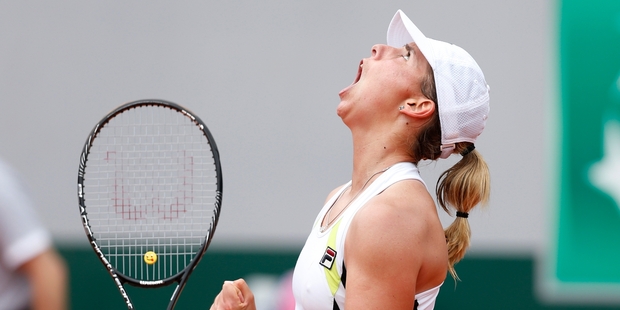 Kiwi tennis No1 Marina Erakovic has taken aim at High Performance Sport New Zealand's "inflexible" athlete carding system after repeatedly having the door slammed in her face by the funding agency.
As world No47, Erakovic's ranking gains her entry into the four biggest professional sporting events for women in the world (the grand slams), yet she cannot gain access to high-performance training facilities in New Zealand.
Back in Auckland for an extended off-season following her best year on the WTA circuit, Erakovic planned to spend a good six-week block working on her conditioning to get in top shape for the 2014 season, in which she hopes to improve her ranking into the 30s.
She approached Tennis New Zealand to see if it had any trainers available to assist her with her programme, but with its limited resources the national body said it was unable to help and directed Erakovic to High Performance Sport New Zealand (HPSNZ).
The funding agency also said it could not assist, so Erakovic paid $12,000 to bring trainer Ryan Curtis from the United States to help her with her off-season programme.
HPSNZ later got back to her and offered her an HPSNZ strength and conditioner on a user-pays basis, but by that stage Erakovic was already well-advanced in talks with Curtis.
Because she was using an outside trainer, HPSNZ would not permit Erakovic to use the gym facilities at the Millennium Institute.
Erakovic said the unwillingness of the two sporting bodies to help makes her feel undervalued.
"It was very tough to take," Erakovic said. "I like representing my country - I'm really proud of who I am and where I come from so it hurt a little bit to be told you're on your own.
"It's been my best year, I'm playing really good tennis and it's a great thing New Zealand has a tennis player at this level. I believe I can still go better, so it's definitely deflating to come home and not even be able to train where our top athletes train. It feels like there is no place for me here in a sporting sense."
Because Tennis NZ is not one of HPSNZ's targeted sports, its athletes are not eligible to be part of the carding programme, which gives athletes free access to sports science professionals, training facilities and supplement programmes unless they are ranked in the top 16 in the world.
HPSNZ boss Alex Baumann was unavailable for comment yesterday, but a spokesman said there were examples where they had assisted individual athletes outside the targeted sports, including Lydia Ko and boxer Alexis Pritchard, but it is up to the national sporting organisations to apply for funding on their behalf.
Erakovic believes the system is too rigid. "They have to take a good look at how they do their selection process because sports in this world vary quite a lot. Some numbers need to be taken into consideration - participation-wise, competition-wise, where the sport sits in a global sense," she said.
"It can't just be black and white, because sport isn't like that. The system is far too inflexible."
Tennis NZ chief executive Steve Johns said he has had many discussions with HPSNZ about its funding model and while it is sympathetic to his cause, it is unwilling to budge from its investment strategy.
"We're continually reminding them that tennis is a completely different sport to cycling or rowing; it's a global sport, and for someone, for Marina, to be 47 in the world is similar to being top 16 in any other sport," he said.
Ironically, Tennis NZ has moved into New Zealand sport's high-performance hub at the Millennium Institute, yet its own athletes have little hope of getting access to the services and facilities.
Although she receives no assistance from the national body, Erakovic has long been the face of New Zealand tennis, but her experiences over the past month have made her think twice about playing back home.
She said she considered boycotting the ASB Classic this year, in favour of playing in the more lucrative Brisbane tournament the same week, which also offers double the ranking points. It was only the opportunity to play in front of her family and friends that convinced her to play in the Classic.
"It was a tough choice. I always love to play here, but it's just one of those things from a sporting and a professional perspective - is it worth my while?"
Erakovic said she finds it "bizarre" the ASB Classic is the richest, highest-profile women's event on the New Zealand sporting calendar, and yet the sport has zero profile here at any other time of year.
Without any high-performance funding and investment into athlete development, Erakovic said professional tennis in this country is a "long and distant dream".
"It makes it very hard for up-and-coming tennis players to get anywhere. If this is what I'm dealing with, I have no idea what they have to deal with.
"It's very unlikely anyone from New Zealand has a chance to make it professionally in tennis these days."
Erakovic said the only hope for young players from New Zealand is if they have a different passport, pointing to the recent defection of 18-year-old Cameron Norrie, New Zealand's leading junior, to the UK earlier this year. It follows Sacha Jones' switch to Australia in 2012.
"[Cameron] actually asked me should he do it or not, and I told him 'yes' without even a second thought. He's going to get a coach paid for, he's going to get access to facilities to train at - there's just no comparison," she said.
Erakovic will head to Florida next month for an intensive three-week training camp with her coach Christian Zahalka to complete her preparations for the 2014 season.