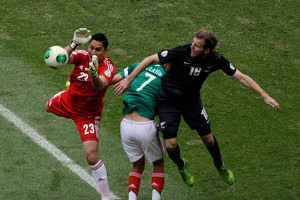 For a bloke who is prolific in front of goal for the Wellington Phoenix, Jeremy Brockie's goal drought for the All Whites is verging on remarkable.
Since his international debut in 2006, Brockie is yet to find the back of the net in 41 appearances, which is a stark contrast to his form in the A-League where he scored 16 times in 24 appearances for the Phoenix last summer.
He's already bagged two goals for Wellington this season but knows he is well overdue to open his account for New Zealand.
The 26-year-old and his teammates would love nothing more than for Brockie to get his name on the score sheet in quick fashion on Wednesday night when the All Whites host Mexico in the second leg of their intercontinental playoff at Westpac Stadium.
The All Whites are up against it after they were humbled 5-1 in Mexico City during the first leg last Thursday and need a sizeable victory this week to put the ledger in their favour to book a spot at next year's World Cup in Brazil.
As for his barren run in front of goal for the All Whites, Brockie said he was "very, very desperate'' to change it.
"I think it's been 40-odd games now,'' he noted. "It's bugging me a little bit, so if I can get the first one it would be a nice little start for Wednesday and hopefully that lights up the rest of the game.''
Westpac Stadium is also a venue where Brockie has produced some of his best work.
"I scored a few goals here last season with the club team, so it's not strange territory that I'm going on and it would be very nice to kick one off against Mexico.''
Former Phoenix striker Shane Smeltz, who was known for his free-scoring ways during his time in the capital from 2007-2009, said he hadn't been giving Brockie a hard time about his lack of goals, despite the pair sharing some banter at today's press conferences.
"He wants a goal, so as a fellow striker, I don't give him any stick about that,'' Smeltz said.
Earlier, Brockie jokingly mentioned that Smeltz's choice of hair style ensured the Perth Glory marksman was ready to go for Wednesday.
"Smeltzy's got the blond mohawk back and he's here now so it only means one thing and that's goals. So we'll see how we go.''
Smeltz was an unused substitute during the first leg at the Azteca last week but is one of the likely changes coach Ricki Herbert will make ahead of Wednesday's game.
With three starters from the first leg _ Ivan Vicelich, Leo Bertos and Chris Wood _ all suspended, Herbert's hand has been forced to an extent, while the need for goals and an attacking approach will likely facilitate at least a couple more tweaks.
"Everyone knows what we have to do and that's go out there and at least score four goals,'' Brockie said. "So there's no room for defending now. Obviously we've got to be aware of it but the mindset's definitely going to be going forward and attacking and putting on a good display for our home fans.''
Nothing less than a minor miracle is required from the All Whites to turn the tie around but, publicly at least, they are carrying a positive demeanour in to the contest.
- APNZ