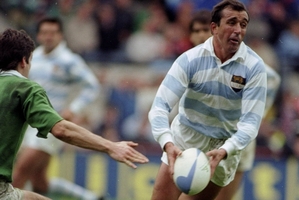 Bennie Osler (South Africa, 1924-1933)
Dubbed a genius by some and an "evil genius" by others, Osler was dominant enough to warrant his own chapter in at least one Springbok history book. Decades after his career ended, he was still described as South Africa's supreme matchwinner. His "crime" was to kick to excess, including many brilliant drop goals. A master strategist with an iron will, the men outside him played second fiddle. Osler set an everlasting tone for his country unmatched in international rugby.
Barry John (Wales, 1966-1972)
The adoring British press called him rugby's first rock star and he was central to the most cherished team to visit these shores, the magnificent 1971 Lions. John, who shunned the lime-light, was a gifted playmaker but his calling card was popularising the around the corner goalkicking technique which gave the toe hack the boot. Yet John hardly practised an art that raised the standard of goal-kicking. On hearing he would kick for Wales, John took one practice shot from in front and sauntered off, leaving his coach gobsmacked.
Phil Bennett (Wales, 1969-1978)
The sidestepper supreme. Bennett's finest work ignited the Barbarians' wonder score against the 1972/73 All Blacks, oft-described as rugby's best try. It was a crowning moment in a wonderful Wales-inspired rugby era. Watching the maestro bamboozle the chasing All Blacks still sends shivers up the spine. In the growing television age, Bennett promoted the idea that No10s should be magical. He was an inspiration, but no one has emulated that step.
Hugo Porta (Argentina, 1970-1990)
A one man band who dragged the Pumas on to the international stage while gliding around like a movie star. Porta did it all, including landing dropped goals with both feet as in a test against the All Blacks, one of them being snapped almost blind. No player has represented the rugby backwaters with such panache. Porta was a one-off but he did more than anyone to at least make rugby think beyond its major shores. He also inspired an immortal line from Welsh player-turned-journo Eddie Butler, who reckoned Porta made kicking "so sexy it was almost pornographic".
Mark Ella (Australia, 1980-1984)
Ella was the passer with magical hands. He did as much as anyone to modernise how a first-five plays. There are many theories about his methods of creating space. The bottom line is this: he wasn't prone to parking away from the action, and shovelling the ball on. He lured defenders, put people into gaps, and galloped off in support. As the story goes, he invented the flat-attack. Ella emerged in an Australian era that probably garnered advantages from the country's league influences. Much of Ella's innovation is taken for granted in modern rugby.
Grant Fox (New Zealand, 1984-1993)
The demanding perfectionist who drove what may have been the finest All Black team. The way Fox played was old before its time although his reputation for being static was a touch unfair - he could spot the opportunities to run and threw lovely passes in front of his runners. Most importantly though, Fox was the advance party for an attention to detail and analysis which has come to rule the game. He was also central to the All Blacks establishing a playing dominance.
Carlos Spencer (New Zealand, 1995-2004)
Tricks. That's what Spencer gave the rugby world. Banana kicks, no look passes, dummies, feints, goose steps, a through the legs pass for a World Cup try against the Springboks. Imagination and fun were his game, derived out of a dedicated training attitude. It's easy to see his legacy - Quade Cooper, Benji Marshall, Sonny Bill Williams - plus scores of kids who were able to see the game differently. Spencer was rugby's first sorcerer.
Stephen Larkham (Australia, 1996-2007)
My favourite. Where would the phase counters be without the unique Larkham. He was the master of retaining possession who inspired a golden period for Australian rugby. Larkham hated to kick ... his famous, 48-metre dropped goal against South Africa in the 1999 World Cup semifinal was the first he had landed. Larkham epitomised patience and composure. There was a beauty and craft to his passing and running game that you can see in the likes of Dan Carter who have followed.
Jonny Wilkinson (England, 1998-2011)
Proved that excessive practice won't make you perfect forever, but it can drive you crazy. This is a delicate area, because Wilkinson showed hallmarks of obsessive behaviour veering towards mental illness and he acknowledged performing acts of self harm. He opened a window on fear-based obsession, a largely unexplored area of professional sport. Good guys do win, however. Wilkinson has the World Cup medal as proof. He showed how one man's drive for excellence can lift a national team. His story also showed rugby can be relevant beyond the scoreboard by being honestly human.
Dan Carter (New Zealand, 2003- )
Immaculate perfection and arguably the greatest of them all. It is the range of Carter's game which sets him apart. Carter showed the No10 could defend as smartly as he organised the game. He delivered all the goodies in an understated style, with barely a smile. Economy of movement, strength and balance put him on a pedestal even the most brutal of tackler could not knock him off. His goalkicking is up with the best. The only thing missing is a devastating sidestep. He sets the bar to an almost impossible height.