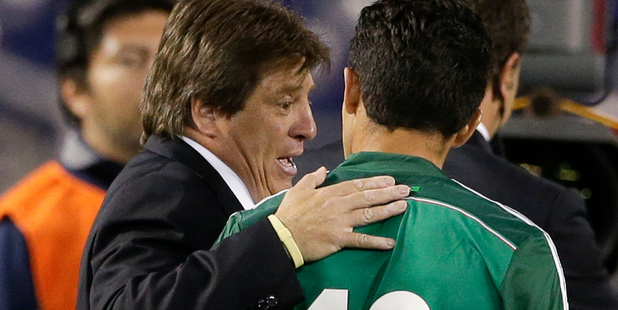 With his first answer at today's press conference Mexican coach Miguel Herrera left everyone in no doubt.
The country has been on a knife edge over the last few months, as the Mexican team has lurched from crisis to crisis, and at one stage were five minutes away from being eliminated before the United States improbably came to their rescue.
But the charismatic Herrera, who has only been in the job for three weeks and has a striking resemblance to Barney Rubble, was crystal clear on his expectations for tomorrow's match against the All Whites.
"We are going to win [tomorrow], I have no doubt about that," Herrera told a packed room with more than 70 journalists. "I'm absolutely sure we are going to win, we have prepared well, we are ready and we are a good team."
When pressed further, Herrerra even predicted that 3-0 would be a "good score" to take to Wellington.
It was a refreshing approach from a coach - ominous from a New Zealand point of view - but also perhaps realistic.
His team has been together for almost all of the last three weeks, with the squad given permission to miss two of the last three games for their clubs. It's been an ideal preparation; Herrera also knows his players well (at least seven of the starting line-up will be drawn from his former club, America) and the majority of the Mexican players are accustomed to playing at altitude.
The Azteca Stadium sits at 2300 metres above sea level and that will be a huge factor tomorrow. Just going for a walk around the stadium leave you a little out of breath, and also produces a slight headache. It's difficult to imagine any kind of physical exercise in these conditions, let alone a 90 minute football match where you will spend most of the time defending.