Piutau and Cane were the only aspiring frontline All Blacks who showed that they are up to the challenge.
Opportunity knocked in Japan and only Charles Piutau and Sam Cane let it in. A handful of others with aspirations to become frontline All Blacks did little to push their chances of selection against France.
While the selectors were never likely to veer from their tried and tested, experienced top line-up in Paris, they would have at least like to have been given grounds to ponder the alternative, if for no other reason than to build the confidence of the wider squad and benefit from the edge competition brings.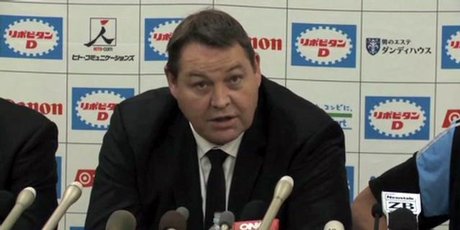 Instead, the post-match vibe in Tokyo was relatively sombre with players aware that in the early part of this week they will be hearing from the coaches where they went wrong.
No one was disastrous but clearly challenges set for performance levels weren't met. Dane Coles, usually such an athletic and useful force in loose play, will be cursing his ill-discipline and lineout throwing.
He'll perhaps be given an immediate crack at redemption - either as a starter or from the bench - because of the pressing need to keep developing him ahead of Andrew Hore's expected retirement.
Both Wyatt Crockett and Ben Franks will feel more could have been done to squeeze the Japanese scrum in the first half.
Tawera Kerr-Barlow didn't kick well enough from the base. Francis Saili, a wildly talented footballer, let his propensity to try too much run away a bit. He's at his best when he hits the ball, shoulders square, hard and direct. Too often he was drifting. Beauden Barrett had all of his usual willingness and eagerness, but there was some poor execution. A missed touch finder from a penalty and a miscue off the side of his boot tainted what was an otherwise solid afternoon.
Cane was accurate and relentless again but he has of course the not insignificant issue of playing in the same position as the skipper.
Piutau is likely to be the only man with genuine cause to wonder whether he might have forced a change of thinking about the line-up for France.
He was the star of the show: so alive to opportunity, focused, powerful, sharp and constructive. His two tries were just rewards for his work-rate and contribution, even if he was steadfastly refusing to be carried away with his performance.
"It was about ticking off the roles in my job," he said. "It is about making sure that when I get an opportunity, I make the most of it. Whatever the coaches are telling me to do in the week, I try to do that to the best of my ability.
"On the wing it is about connecting with the centre defensively. It was about making my connection with the back three, being able to work together, finish off, carrying strong and kick-chase - making sure I contest.
"It was quite a slow start. We didn't want to get drawn into throwing the ball around but it kind of did happen like that. We didn't get into our structures as well as we wanted to. I guess, there is a lot we can work on."
As well as Piutau played, Cory Jane is in chronic need of game time, having managed only 120 minutes of rugby all year because of injury. The veteran is likely to start in Paris but after that - the decision between him or Piutau could be decided on form.