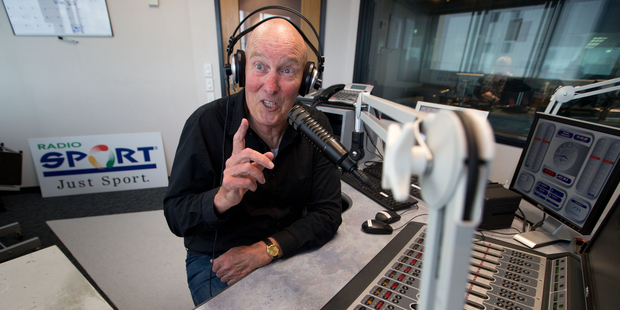 Murray Deaker, an undisputed giant of sports broadcasting, has blown the final whistle on his career of more than 20 years.
The 68-year-old Aucklander told viewers of last night's Deaker on Sport show on Sky it was his last. He will host his final Newstalk ZB/Radio Sport show on December 22, after a break following hip-replacement surgery tomorrow.
Hours before the surprise announcement, Deaker told his TV show sponsors at a gathering where he choked up when the spotlight fell on his longtime producer Greg Billings.
Deaker told the Herald: "I wanted to go out on top of my game ... I was Sports Broadcaster of the Year last year and in the final three this year, so I can say that.
"I've been ruthless on sports people who go on too long. I'll miss it though - it has been all-consuming. My passions are sport and people and it has combined them. I have lived my dream."
The teacher and drug educator first hit radio as a part-timer for Auckland breakfast host Merv Smith.
Deaker's fulltime career began in mid-1990 on ZB. He came to dominate the ratings and sports media landscape with his presence, booming voice, strong opinions and drive to deal with the big subjects and interview leading players, all while retaining a soft spot for smaller sports.
His career flourished out of a bygone era of media personalities. Paul Holmes translated his radio success to become a TV darling, but Deaker is arguably the dominant radio figure in this country, especially for one subject area.
For 17 years he hosted a radio talk show four nights a week, plus six-hour programmes on Saturday, Sunday and statutory holidays, before easing back. He had quickly made the jump to television, hosting 519 Deaker on Sport shows, all done live to get the best out of his subjects "by preventing the technical people taking over". He shunned the autocue after a bad review referred to his cross-screen eye movement.
He made a further 311 Deaker Profiles for Sky, a testament to unflagging energy and determination to be central to the sporting scene.
"I did 225 radio shows in a row, two years without a break, so no one got their backsides in my chair," he told the Herald, laughing, from his Takapuna home.
There was a price, with one emotional collapse, as well as many controversies and arguments including with figures such as Graham Henry. None left regret, although relationships were strained.
His broadcasting career over, Deaker plans much travel with wife Sharon, who often accompanied him on assignments, "which helped me keep a good perspective". He will pursue other passions, including Russian and American history.
His one regret: never interviewing cricket legend Don Bradman. Career highlight: witnessing Nelson Mandela walk out before the 1995 Rugby World Cup final at Ellis Park, Johannesburg.
"It was probably the biggest unification moment in South Africa's history ... It transcended sport."