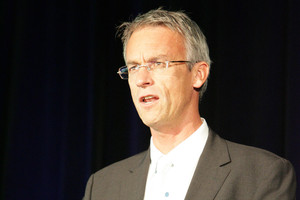 A-League chief executive David Gallop maybe wasn't kidding when he called on the sport to become the biggest football code in Australia.
It has already proven more than just a veiled threat. The A-League recorded its greatest first round attendance figures last weekend, averaging 20,200 spectators over the five matches. That's 5000 more than the NRL's season average, which up until round 26 was 15,939 fans.
If you want to compare it to rugby union, just look at Australian Rugby Union chief Bill Pulver who has already submitted to the foetal position, largely because of a $19m deficit over the past two years. Unlike the A-League, rugby union's failure to secure free-to-air television coverage and the decrease in support for the 15-man game has led to a rash of severe cost-cutting measures.
"From a financial perspective we're going to be skating on thin ice for the next couple of years," Pulver said last week."Can we get through? Yes, we can. Is it going to be bloody hard? Yes, it is."
The prospect of cutting player wages remains a serious consideration. A multi-millionaire with a leaning towards performance-based paid workforces, Pulver has been in talks with the players' union about ditching match payments of A$14,000 a test, win, lose or draw. That the union has countenanced such a proposal without flagging the prospect of a player strike is an indication of just how weak the Wallaby bargaining position has become.
While the A-League are a long way from the NRL and AFL (both over 200,000 viewers on average) when it comes to TV ratings, their 93,000 viewers for the opening round was a 15 per cent increase on last season's average. In comparison, an average of 103,000 Australian rugby fans tuned in to watch the Super 15 2013 season.
But it is rugby league's top dog status under threat that is catching attention in Australia. NRL chief executive Dave Smith told The Sunday Telegraph last weekend that in his role, he doesn't give the A-League too much thought.
Next Saturday night would be a good place for Smith to, at the very least, ponder the A-League's infiltration into the hearts and minds of mums and dads across the country with excited officials preparing for the biggest crowd to ever witness an A-League match in Sydney. A record-breaking 40,000 sell-out is brewing for the cross-town derby between Sydney FC and the Western Sydney Wanderers at Allianz Stadium.
The NRL failed to achieve such a feat at the double-header during the finals series held at the same ground.
Gallop said Saturday's Derby was another indication of why football is the hottest property in Australian sport: "When we say that football aims to be the biggest and most popular sport in Australia, it is not only our strategic objective, it's starting to take shape.
"It's no longer a matter of if, but when, as we see the game's huge potential and growth story come together.
"It's fair to say that other footy codes have provided Sydney with the cross-town rivalry for years, but the A-League's Sydney derby has become an instant classic.
"In the space of one season," Gallop said, "the fans of Sydney FC and the Western Sydney Wanderers have made the derby a must-see occasion for all Sydney and many Australian sports fans.
"The interest is so strong in next Saturday night's derby that we are forecasting a 40,000-plus crowd and that would be new record for an A-League regular season game in Sydney. That tells you how big this game has become. Our growth trajectory is unmatched in Australian sport."