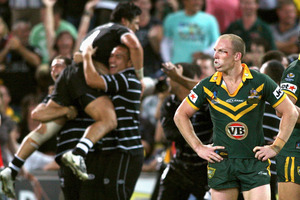 The forging of combinations is a difficult task when few games are played before this World Cup, so teams need something different to help them form a "brotherhood". This relationship is a major element in the formula that determines how successful they will be.
Some teams will bond based on cultural aspects but it's hard to know, for example, how a team like the United States will bring a side together. Rugby league is a very minor sport in that country and the bond they may have is that they are strangers to each other. Some will have that cultural link by name only as a few in the Italian team have never set foot in Italy.
Australia have the State of Origin which allows an easy transition of two teams into one, so combinations are more fluent. However, no matter how often Australians deny a NSW-Queensland rift, it does exist and it will take only one out-of-line comment, gesture or reference and the animosity will kick off.
New Zealand have a cultural bond and recent games together so a brotherhood is established. A more influential bond is the feeling of being referred to, by some media and past players, as Australia's little brother and then constantly being patronised, with the proverbial 'pat on the head' and the arrogant line of "you'll get there one day, boy".
The Pommy boys have had to put up with little brother Australia relentlessly reminding them over the past 30 years that the older sibling couldn't foot it with them. This English team are out to redeem themselves after their last World Cup saw an embarrassing exit.
The Island nations certainly have the cultural bond but little time together nearly always sees them stuttering at certain stages. However, if you look at the names in both the Tongan and Samoan teams, you can see how powerful these two teams are. Beware - there will be an upset somewhere.
Despite the low profile of this event in terms of world exposure, within the rugby league world there will be some outstanding games which will unfortunately be unnoticed. Yes some teams are making up numbers and even most ardent fans will still know only Australia, New Zealand or England in the final - but how many people can visualise England beating Australia in the first encounter and then not having to face New Zealand in a semifinal?
If that happens, a New Zealand-Australia semifinal would ensue. Who will predict the Kiwi team winning that one? It is possible, given the nature of these teams and the unpredictability of knockout football.
The rest are making up the numbers but this is still a tournament worth viewing for entertainment.