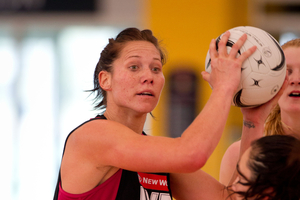 Unheralded midcourter Katarina Cooper has received her first test call-up with the 27-year-old named in the Silver Ferns line-up to play the Malawi Queens later this month.
Cooper and her Pulse team mate Te Huinga Reo Selby-Rickit are the only changes to the 12 that finished off the Constellation Cup series in Canberra at the weekend, coming in at the expense of Courtney Tairi and Anna Thompson.
Selby-Rickit was originally named in the Constellation Cup series, but the canny defender was dropped from the team for the Australian leg of the series as the selectors called in reinforcements to help out the struggling midcourt with Shannon Francois joining the team. Francois, who has limited ANZ Championship court time, impressed in her outings for the Ferns considering she was well and truly thrown in the deep end, and retains her place in the team for the Malawi series.
Cooper, who was a shock selection in the Silver Ferns squad earlier this year after not even being picked up by an ANZ Championship side, will be looking to challenge Francois for the wing attack spot.
The national selectors said they opted for a strong Silver Ferns team out of respect for Malawi's fifth world ranking, ahead of other larger netballing nations like South Africa, Fiji and Trinadad & Tobago.
Malawi will be on their inaugural tour of New Zealand as part of their tour of Australasia which also includes matches in Australia and Fiji. The team will then stay on in New Zealand to contest the Fast 5 Netball World Series in November.
The visitors are renowned for their aerial play and inventive style, which makes them crowd favourites wherever in the world they play. With Queens' shooter Mwai Kumwenda signing for ANZ Championship side Tactix for the 2014 season, the first ever Malawian to play in the competition, chances are many of her fellow countrywomen will follow allowing New Zealanders to see more of the unique flair Malawi brings to the netball court.
The series gets under way next Thursday in Wellington, with Napier to host the second test, while the finale will be held in Hamilton.
The Silver Ferns team is: Casey Kopua (captain), Laura Langman, Maria Tutaia, Jodi Brown, Irene van Dyk, Cathrine Latu, Te Huinga Reo Selby-Rickit, Katarina Cooper (new cap), Shannon Francois, Joline Henry, Leana de Bruin and Katrina Grant.