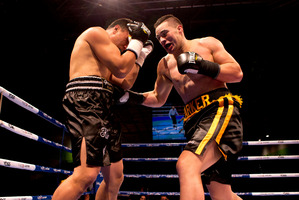 Joseph Parker will take a step up for his next fight when he takes on former South American champion George Arias in March.
Parker, who claimed one of the two main New Zealand heavyweight belts with a second-round defeat of Afa Tatupu last week, was due to fight Arias in November. But after a head clash left him with a deep gash, the bout was rescheduled and a new deal was signed last night.
It is a signature Parker's handlers hope they won't regret.
"A few people who I have great respect for warned me not to take this fight,'' Duco Events promoter Dean Lonergan said. "But if Joseph is going to progress as quickly towards a world title shot as I think he can, he has to be tested now.
"Is it a risk? Yes. But I've put my trust in the boy to do the job.''
The 39-year-old Arias is a shorter heavyweight with a reputation as a durable and dangerous opponent and he's not like anyone Parker has fought before.
Arias has fought 64 times in a 17-year career, with most of his wins over South American opponents little recognised in this part of the world. He has lost 11 times.
He has also met a couple of bigger names - losing to former British heavyweight hope Audley Harrison after taking the fight with four days' notice. Arias has also only been knocked out twice - by big Cuban Juan Carlos Gomez (who went on to fight Vitali Klitschko, losing the fight for the WBC world title in 2009 by a TKO in the ninth) and Fres Oquendo, one of David Tua's victims in 2002.
But Arias has now won his last 12 fights, many against young, inexperienced contenders and all defending his Brazilian and South American titles. Even though he is not a big name, Arias will be a step up for Parker.
Parker is undefeated after seven fights following his destructive performance against Tatupu.
"We are under no illusions about the challenge that Arias provides,'' Lonergan said. "But in this game you can't afford to sit on the sidelines and duck challenges.
"Joseph needs to stay busy. And he needs to keep testing himself. Because of the calibre of the opponent, the decision to take the fight will place a bit of adversity and pressure on him. But, in this game, that's not a bad thing because sometimes you just have to go to war.''
- APNZ